Debenhams sees year profit ahead of forecast
LONDON | Tue Sep 14 - Debenhams, Britain's No.2 department store group, said strong sales of its designer ranges, coupled with growth online and overseas, would help it cope in a tough environment for shoppers in coming months.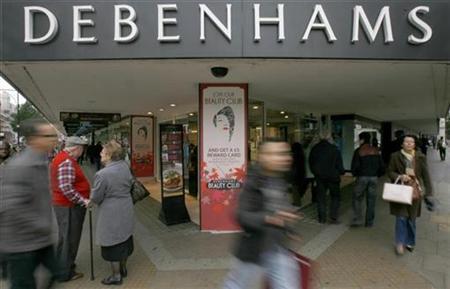 Debenhams, with 160 stores in Britain and Ireland, six in Denmark and 60 franchised outlets overseas, said on Tuesday profit before tax and one-off items for the year ended August 28 would be in the region of 150 million pounds.
That would be up about 20 percent from the year before and just ahead of analysts' average forecast of 147 million pounds, according to Thomson Reuters I/B/E/S Estimates.
Britain's retailers are worried steps to rein in government borrowing, like higher taxes and public spending cuts, will hit consumer spending.
Discount fashion chain Primark said on Monday sales growth had slowed and profit margins would be hit by higher cotton costs, while a survey on Tuesday showed consumer morale below its long-run trend.
Debenhams chief executive Rob Templeman said while he shared the caution about the outlook, the group was set to benefit from its shift over the past year towards higher margin own-bought products from concessions.
"From a sales line, we were on the back foot (in the year just ended) because of all the space moves that we made, whereas this year I think we will be on the front foot," he told reporters on a conference call.
He said there would be new "Designers at Debenhams" ranges to sustain growth achieved by lines such as "Butterfly" from Matthew Williamson and Lisa Stickley's "House and Home," as well as more investment in store refurbishments.
The company was also on track to make a profit at its recently acquired Danish chain, Magasin du Nord, next year, he said.
Seymour Pierce analyst Kate Calvert raised her 2010-11 profit forecast 13 percent to 170 million pounds and her investment rating on Debenhams shares to "buy" from "hold."
"There is sufficient momentum in the business to deliver further underlying gross margin gains and help offset rising cost of goods inflation," she said.
At 8:30 a.m. British time, Debenhams shares were up 3.1 percent at 67 pence, versus a 0.1 percent rise on the UK midcap index.
SuperGroup, the fast-growing company behind the Superdry fashion brand, also said on Tuesday it was confident of thriving in a tough market.
MARKET SHARE GAINS

Debenhams, number two to department store group John Lewis by sales, said sales at stores open at least a year were flat compared with the previous 12-month period.
Templeman said this included an increase of about 2 percent in the final quarter, when disruption from the shift in selling space came to an end, and market share gains in menswear and childrenswear.
Gross profit margins were up substantially more than 100 basis points, while net debt would be below a forecast for 530 million pounds, he said.
Templeman thought inflationary pressures were likely to ease next year as a stronger pound mitigated an increase in cotton costs and a rise in VAT sales tax from January.
Debenhams would have a competitive advantage in the run-up to Christmas because it had hedged its currency exposure at a more favourable rate than many rivals, he said.Debenhams shares, which returned to the stock market at 195 pence in 2006 after 2-1/2 years in private equity hands, have lagged British rivals by about 7 percent this year.Competitors Next and John Lewis were set to publish first-half results on Wednesday and Thursday respectively.
By Mark Potter
© Thomson Reuters 2023 All rights reserved.