Debenhams surprises with sales rise
Debenhams, Britain's No. 2 department store group, said it was confident it could keep growing despite uncertainty in the economy after a push into non-clothing areas saw it beat sales forecasts.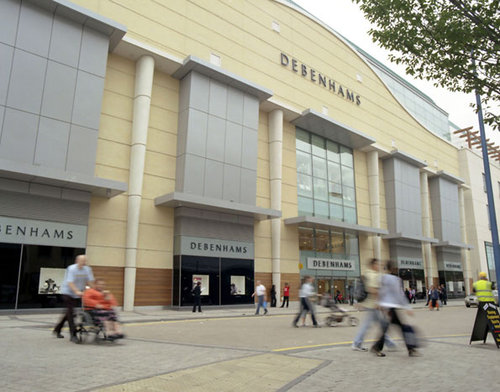 Photo: Debenhams
Chief Executive Michael Sharp told reporters on Thursday there was little sign of an imminent recovery in confidence among UK consumers who continue to be squeezed by inflation, meagre wage growth and government austerity measures designed to cut record national debt.
But he said Debenhams' broad width of products, broad range of customers, multiple routes to market and shrewd marketing, such as its "Life Made Fabulous" campaign, meant it was well placed to achieve further gains in market share.
The firm has supplemented its core clothing offer by developing its beauty, accessories and home business.
That alleviated the impact record rainfall in April had on seasonal clothing categories, particularly womenswear.
Debenhams, which trades from 165 stores in the UK and Ireland and 68 overseas, said sales at stores open over a year rose 3.1 percent, excluding VAT sales tax, in the 16 weeks to June 23, which includes its fiscal third quarter.
That compares with a rise of 0.3 percent in its first half and analyst forecasts in a range of down 3 percent to up 1 percent.
Online sales grew 34.9 percent over the 16 week period, with mobile accounting for 30 percent of website traffic.
"This performance demonstrates our ability to trade well in difficult markets," said Sharp.
"We called the customer mindset right around the calendar events, when there's been a clear desire to shop and footfall has been at its highest - Mother's Day, Easter, Father's Day and the Diamond Jubilee."
However, the sales mix change towards health and beauty products, which have a lower profit margin than own-bought clothing, along with higher concession sales, more than offset the impact of lower commodity prices on gross margin.
As a result Debenhams now expects gross margin for the full year to be around 30 basis points lower than 2010-11 compared with previous broadly flat guidance.
It stressed the revision did not reflect an increase in promotional activity, which was similar to the previous year.
The firm was comfortable with analysts' expectations for 2011-12 pretax profit of about 156 million pounds.
Last month Britain's biggest retailer Marks & Spencer slashed its sales growth forecast and flagged a tough start to its first quarter.
HIDDEN SECRET
Debenhams returned to the stock market at 195 pence in 2006 after two and a half years in private equity hands.
The stock has risen 44 percent over the last six months but was down 1.7 percent at 81.8 pence at 1044 GMT, valuing the business at 1.02 billion pounds.
Panmure Gordon analyst Jean Roche said the gross margin guidance and higher marketing costs were offsetting the top line sales surprise.
Sharp said consumers' perceptions of Debenhams were rapidly improving.
Citing independent research he said consumers increasingly saw Debenhams as a modern and fashionable rather than a dusty old department store.
But he said for many people Debenhams, which is ranked second in Britain in revenue terms after employee-owned John Lewis, remains "a hidden secret".
"The opportunity through the marketing is to tell customers who don't shop with Debenhams or haven't shopped with Debenhams for a while exactly what we're all about."
The CEO said he remained unsure what impact the London Olympics would have on the UK retail sector. "But if it's good for retail then we're sure it would be good for Debenhams."
Britain's economy fell back into recession faster than first thought and seems unlikely to recover for some time, data showed on Thursday.
Many British retailers have been struggling as consumers clamp down on spending. Credit ratings agency Standard & Poor's said this week it did not expect consumers to give a boost to UK GDP any time soon.
However, an industry survey on Wednesday showed British retail sales rose at their fastest pace in 1-1/2 years in June.
© Thomson Reuters 2023 All rights reserved.