Desigual dreams of Maison & Objet
At Bread & Butter, Desigual was already thinking about January 2013. And for good reason – which is when the Spanish brand would be preparing for its first Maison & Objet. Desigual CEO Manel Adell took advantage of the Berlin fair to give a rundown of the company's projects, the latest being the upcoming launch of Desigual Living or Home. The brand will now be offering bedding, linens and textiles for bath and home. Some items are already on sale in the "Living" section of Desigual's online shop.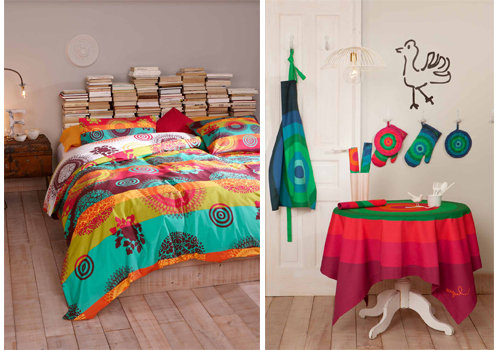 The Desigual Living collection includes bath, bed and kitchen linens and textiles. Image: Desigual
Desigual wants to bring color into the home. "Each time we study the potential of each category for our identity. After shoes, we believe that the home offers us room," remarked the company owner. Adell said that the new line will be sold from spring 2013 through department stores and specialty retail chains, given the fact that Desigual stores do not have enough space to display home products. In France the line will be carried by 24 Galeries Lafayette, including the Haussmann store in Paris, Cap 3000 in Nice and La Part Dieu in Lyon.
For the time being, Desigual, which earned over 550 million euros in sales in 2011, has not yet issued any licenses. Underwear, shoes and now home products have all been developed in-house.
Copyright © 2023 FashionNetwork.com All rights reserved.