Diageo awaits Hermes mist to clear to spy Moet
(Reuters) - Diageo (DGE.L) will need to pay a high price of over 11 billion euros ($15.2 billion) to take control of Moet Hennessy if majority owner LVMH (LVMH.PA) looks to sell out to fund any eventual deal for Hermes (HRMS.PA).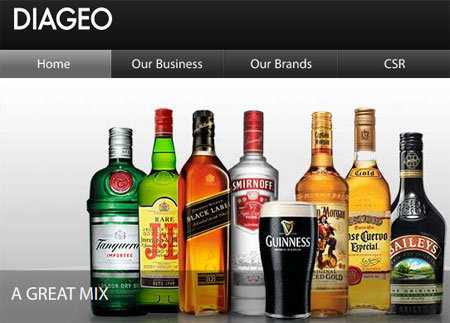 Diageo
The world's biggest spirits group will have to match recent top deals if it get the chance to buy the 66 percent of Moet Hennessy it does not already own and pay a multiple similar to Pernod Ricard's (PERP.PA) Absolut vodka deal in 2008.
Taking over 100 percent of the champagne and cognac business makes excellent sense for Diageo, but the critical factor is whether LVMH chief and major shareholder Bernard Arnault wants or needs to sell to fulfill what analysts say is his dream of controlling Hermes.
"Diageo and Moet Hennessy is a deal made in heaven, it ticks all the essential boxes, but will Arnault play ball?" said one investment banker with knowledge of the situation.
Adding the world's largest champagne and cognac house to Diageo makes sense as the British group already sells the world's top brands in whisky, vodka, gin, tequila and liqueurs with Johnnie Walker, Smirnoff, Gordon's, Jose Cuervo and Baileys, and will give it a stranglehold on the world's cocktail cabinet.
Arnault has built up a 17.1 percent stake in Hermes as part of a long-term plan to put pressure on the controlling family at Hermes, but analysts and bankers do not believe Arnault needs to sell Moet Hennessy to fund any speculated Hermes move.
Analyst Philip Morrisey at Berenberg Bank values Moet Hennessy at 20 times its historic 2009 EBITDA (earnings before interest, tax, depreciation and amortization) of 852 million euros putting a price of 17 billion euros on the cognac and champagne business or 11.2 billion euros for a 66 percent stake.
"We continue to believe that Diageo is keen to acquire Moet Hennessy but that LVMH is reluctant to sell," he said.
This valuation is above the average of around 15 times over the last decade in the spirits industry -- above the 15 times of the 2005 Allied Domecq takeover but below the 25 times Bacardi paid for Grey Goose vodka in 2004 -- and close to the most recent big deal in which Pernod Ricard (PERP.PA) paid 20.8 times for Absolut vodka group Vin & Sprit.
For Diageo, a deal is highly attractive and would give it a business with strong emerging market Asian exposure, especially in China, and operating profit margins of over 30 percent, and its Chief Executive Paul Walsh has said that he would be interested in buying the 66 percent stake.
Analyst Nico Lambrecht at Bank of America/Merrill Lynch says LVMH, the world's largest luxury goods group, would not have to sell Moet Hennessy to fund a possible acquisition of fashion group Hermes, if that is its intention, as LVMH has relatively low debt and ample funding capacity.
LVMH bought a stake in Hermes which it topped up to 17.1 percent earlier this week but said it was not planning a takeover bid and will not seek any board seats. It also denied plans to sell its stake in Moet Hennessy.
Analysts say Hennessy dominates the cognac market with nearly a 36 percent share of the world market in volume terms twice the size of nearest rival Remy Martin (RCOP.PA) and ahead of Pernod's Martell and Fortune Brands' (FO.N) Courvoisier.
In champagne, Moet Hennessy brands Moet & Chandon and Veuve Clicquot lead the champagne market with these two top world brands accounting for a third of all French exports.
"We would view a deal to take full control as positive, dependent on price, as it closes a gap in Diageo's portfolio of categories and increases its exposure to the fast growing Chinese cognac market," said Goldman Sachs' Lucy Baldwin.
UBS analyst Melissa Earlam assumes Diageo could fund a potential deal with 50-50 equity and debt and sees cost savings of 275 million pounds as it could cut overheads, sales and marketing costs and distribution savings particularly in Europe.
"Diageo has been clear about its interest in Moet Hennessy and we believe strategically the asset is highly attractive," she added.
Diageo has joint ventures with Moet Hennessy in countries like France, China and Japan, all nations with strong cognac sales and big luxury goods markets. Analysts believe a successful deal could also create big revenue synergies by distributing products down each others networks.
But with around 60 members of the disparate Hermes family holding 72 percent of the shares and as it reiterated its wish to preserve control in the long term, LVMH and in turn Diageo may have a long wait for their favoured deals, analysts added.
(Editing by Louise Heavens) ($1=.7242 Euro)
© Thomson Reuters 2023 All rights reserved.