Dior shows its collections in 3D
In homage to its iconic pearl necklace from the 'Mise en Dior' collection by Camille Miceli, the current creative director for Christian Dior accessories, the luxury brand produced a 3D animation film with one focus only: a pearl.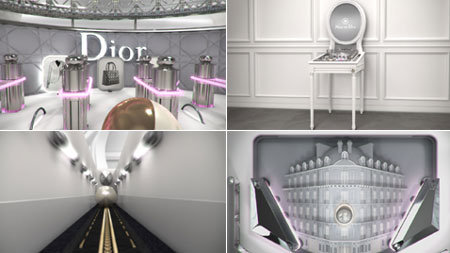 Screenshot from the new 3D animation film
Created by advertising agency Al Dente, the short-film had a preview showing at Nowness (LVMH group) before appearing on Dior's new website. It features a pearl making its way through a luxurious paintball machine and bumping into some of the brand's flagship products such as the Lady Dior bag, the J'adore perfume bottle and also the Dior Addict red lipstick.
To the sound of an electro-remix of Mozart's Symphony No. 25, the pearl is shown rolling inside the machine and, as it encounters Dior's signature pieces on the way, it gets one step closer to the end goal: the breath-taking pearl necklace.
Copyright © 2022 FashionNetwork.com All rights reserved.