Eddie Bauer says risks violating debt obligations
March 19 (Reuters) - Specialty apparel retailer Eddie Bauer Holdings Inc (EBHI.O) said it faced a significant risk of violating the terms of a loan as early as the first half of fiscal 2009.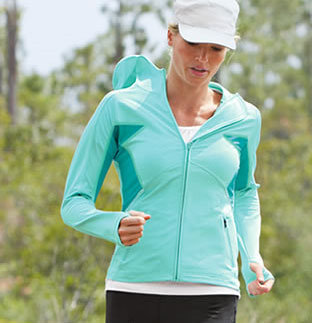 Eddie Bauer Sport, Spring 2009 - Eddiebauer.com
In order to avoid a "going concern opinion" from its independent registered public accountants, the company is seeking an amendment to a term loan agreement with $193 million owing, Eddie Bauer said.
A going-concern opinion means the auditors cannot have reasonable assurances that a company will survive for the next fiscal period.
"We expect 2009 to be a very challenging, difficult year. While the amendment we are seeking is expensive, it will give us a new level of covenants with considerably more room on the downside through the first quarter of 2010," CEO Neil Fiske said in a statement.
Eddie Bauer submitted two previous proposals to its amended term loan lenders, both of which were not approved, before reaching an agreement in principle on the current amendment terms.
The amendment terms being discussed include upfront cash and payment-in-kind fees, a substantial increase in interest rates, as well as the issuance of warrants for its stock.
In addition, Eddie Bauer said intended to try to reduce it total debts, including a possible restructuring of its convertible notes issue or obtaining new capital to pay down existing debts.
The company, which announced job cuts in January, reported a 5.7 percent decline in fourth-quarter revenue. It has closed 24 retail and five outlet stores in 2008.
Eddie Bauer is a U.S. sports and outdoors clothing brand. Its founder with the same name opened the company's first store in Seattle in 1920.
Eddie Bauer shares closed at 78 cents Wednesday March 18 on Nasdaq. They have lost 90 percent of their value in the last six months. (Reporting by S. John Tilak in Bangalore; Editing by Lincoln Feast)
© Thomson Reuters 2023 All rights reserved.