Ellesse re-launched in North America
For its North American re-launch, Ellesse North Amercia Inc., which has bought back its licensing rights from the british group Pentland, turned to one of its trusted collaborators. The tennis player Chris Evert, who has long played for the Italian brand on the court will become the spokesperson for Ellesse on the American continent. She also holds a minority share in the company and will be involved in the development of a capsule collection - "Chris Evert for Ellesse."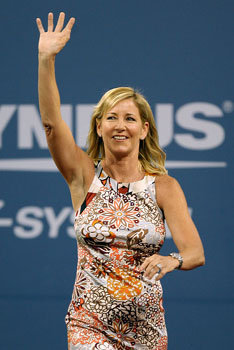 The former American champion tennis player, Chris Evert, will have an eponymous capsule collection - Photo AFP
Relying on the reputation of the former champion, the brand, which was created in 1959 by Leonardo Servadio, hopes to regain a foothold in North America this winter with a selection of tennis products before offering its entire line to consumers during the first quarter of 2012. Its collections of shoes, in turn, will not launch until the last quarter of 2012, which is also when it intends to open its first boutique on Manhattan's Upper East Side.
In ensuring its return to the playing field, Ellesse North America's board of directors, chaired by William Aron of the investment fund Paisley Holdings, seems to be leaving nothing to chance. To lead the effort, the board, which also includes Mortimer Singer, president of Martin Traub Associates and Steve Wynne, former CEO of Adidas America, has hired Byron Hero as general manager. This veteran of Givenchy, Christian Dior and Danskin will work alongside CFO Joe Quinn, formerly of J. Crew and Modell's sporting goods stores. Finally, Carolyn Siskovic who has worked in the NBA, at Nautica, Ralph Lauren and Nike, will assume the responsibilities of president.
Ellesse plans to initiate its comeback by focusing on tennis in the North American market before introducing its fitness, skiing, golfing and horseback riding lines. "Our product line will offer the best design, quality materials and careful cuts that customers who engage in these activities can expect from an Italian luxury brand," Carolyn Siskovic said in a statement.
Confident in its growth potential, the brand is expecting a minimum of 25 store openings in the next five years.
Copyright © 2023 FashionNetwork.com All rights reserved.