Escada offers 1 new share for every 2 in capital hike
FRANKFURT, July 21 (Reuters) - German fashion house Escada (ESCG.DE), now grappling with a restructuring to avert insolvency, said it would offer shareholders one new share for every two they now own, under a planned 29 million euro ($41.06 million) capital increase.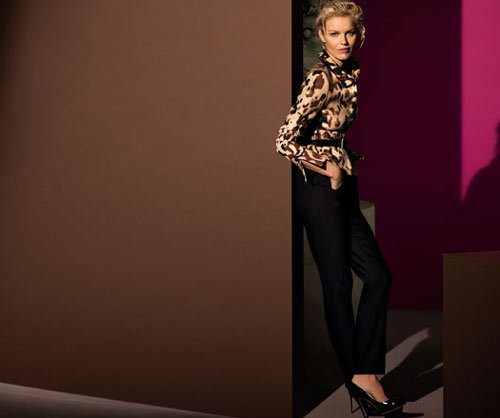 Escada Fall 2009
It set a price of 2.78 euros per share for the new 10.45 million shares it would issue, according to a company statement late on Monday 20 July.
The subscription period is on July 23-Aug 5.
The company, whose luxury gowns are worn by Hollywood stars such as Katie Holmes, has been struggling with falling sales in the recession.
Escada said existing shareholders, management board members and an investor have promised to participate in the capital increase.
But these commitments require, among others, that bondholders owning 80 percent of 200 million euros of bonds accept the company's offer to exchange their old bonds for new ones that allow repayment at a later date.
The company also said it would extend until Aug. 4 the time for bondholders to receive a cash incentive in return for acceptance of the bond exchange offer.
Bondholders who accepted the offer by Aug. 4 would receive 25 euros in cash for every 1,000 euros in nominal value of the bond tendered.
The previous deadline for this "early-bird" period was July 31. This is the second time the "early-bird" period was extended from its original date of July 14. ($1=.7063 Euro)
© Thomson Reuters 2023 All rights reserved.