Escada Q1 profits decline, sets stage for cap hike
* Escada says Q1 core profit falls 19 pct to 5.5 mln eur
* 2008/09 sales to fall by at least high single-digit pct * Says facilitates issuing new shares at 2.78 eur/shr
(Adds details, background and share price)
FRANKFURT, March 17 (Reuters) - Disposal gains at Escada (ESCG.DE) failed to offset easing demand for luxury goods and costs from an ongoing restructuring programme, leading to a near 20 percent drop in first-quarter core profit.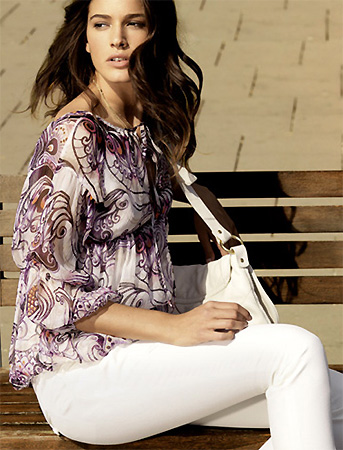 Escada Sport
The German fashion house said on Tuesday it would also propose to shareholders at its annual general meeting on April 28 a reduction of its capital stock by 48.9 million euros ($63.2 million) -- an amount that matches its balance sheet loss for the last fiscal year.
The calculated portion of each share in the capital stock should decline to 2.78 euros, in a measure that would "facilitate the issue of new shares", since their potential price under a capital increase cannot be below this level.
Escada's shares ended Monday's session at 2.06 euros.
Escada, which is in the process of selling its Primera unit with brands such as Apriori, BiBA, Cavita and Laurel, expects revenue to drop by a high single-digit or low double-digit percentage rate for the 2008/09 year.
"Given the systemic lead times of over a year in the fashion industry, the first positive effects from the currently ongoing principal reorientation of the Escada Group cannot be expected before the second half of the calendar year 2009 at the earliest," it said in a statement.
Earnings before interest, tax, depreciation and amortisation (EBITDA) for the three months to the end of January fell 19 percent to 5.5 million euros, which includes a one-off gain of 13.4 million from the sale of non-core assets.
Its net loss widened to 6.3 million from 4.0 million on sales of 131.5 million euros, down 7.5 percent.
Escada suffers from a hefty decline in demand for luxury goods as a result of the global economic downturn.
The company missed its own targets in fiscal year 2007/08 to the end of October and made a net loss of 70.3 million euros.
Analyst also expect a loss for this year, according to Thomson Reuters StarMine, which weights analyst estimates according to their track record.
Escada's peers such as Hugo Boss (BOSG_p.DE) and Bulgari (BULG.MI) trade respectively at around 6.3 and 13.3 times 12-month forward earnings, according to StarMine.
Escada's ongoing restructuring amid an overall downturn in the luxury goods industry was a particular challenge for the German fashion house, analysts said.
(Reporting by Eva Kuehnen)
© Thomson Reuters 2023 All rights reserved.