Esprit moves its trend office to London
Esprit finally picked London. The retail brand, which had announced the opening of a trend office in Europe in its transformation plan, has deployed a design team to the British capital.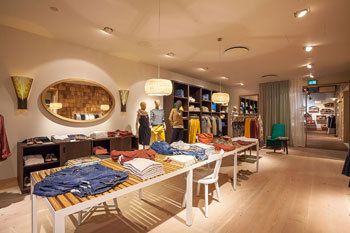 Esprit opened a flagship store in Düsseldorf in June
Earlier this year, Paris or a German city were still being mentioned. But London seems to be a good fit for Esprit, which also has a strong presence in northern Europe, not to mention the fact that the major chains thriving today are from Scandinavian or Anglo-Saxon countries. According to our information, Jasmin Elfving will be in charge of the London office. The manager has been with Esprit since 2007 and oversaw the initial design of the de.corp line.
In an interview with Textilwirtschaft, departing Esprit CEO Ronald van der Vis said: "The team is in London. In eight weeks, it is able to go from design sketches to getting delivery of new products in store." At the End of 2011, Christophe Bezu, chief wholesale officer, talked to Fashionmag.com about trend offices: "It involves getting very hot styles into the system every month. These are very in-demand items with a very fast supply chain, but that still bear the same signature style." Esprit has also established an office in Shanghai. The China Design Center's job is to adapt collections to China, where body types and climatic conditions are different from Europe.
Copyright © 2023 FashionNetwork.com All rights reserved.