Esprit shares plummet 20 pct on growth worries
By Parvathy Ullatil
HONG KONG (Reuters) - Shares in Esprit Holdings, the world's No. 5 fashion retailer, plunged nearly a fifth on Thursday to their lowest in two years after the firm missed earnings forecasts and warned investors of tougher times ahead.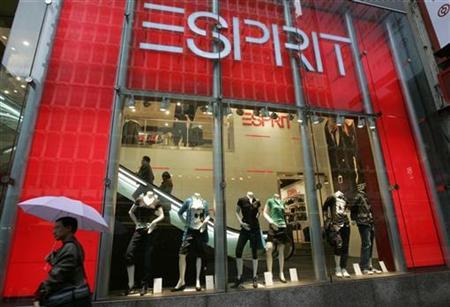 Esprit fell 19.2 percent to end Thursday morning at HK$64.95, a level last seen in September 2006. It has fallen more than 30 percent so far in 2008, walloped by fears that slowing economies in Europe -- which accounts for more than four-fifths of its revenue -- will severely damage is bottom line.
"This is the first time I'm sounding a note of caution about the future. I am afraid this time ... we see a kind of 'consumer strike' now with people refusing to spend money," Esprit chairman and CEO Heinz Krogner told a post-results news briefing on Wednesday.
Krogner also ruled out making an acquisition for now, after speculation had swirled for over a year that the cash-rich firm was on the verge of buying an international brand, because of lingering uncertainty over the global economic outlook.
Esprit, which competes with Hennes & Mauritz , Benetton and Gap , had cash reserves of HK$6.5 billion ($833 million) as of end-June and a shareholder mandate to buy back over 121 million shares.
In July, the company managed to halt a sharp slump in its share price by buying back over 2 million shares.
"I'm not going to say we will buy back more shares, that will only encourage speculators. But we think our shares are worth a lot and we'll do our best to preserve shareholder interest," Krogner said, without elaborating.
GLOOMY OVERHANG
On Thursday, Merrill Lynch downgraded Esprit to underperform from buy after the fashion retailer posted a 12.5 percent increase in second-half net profit to HK$3.15 billion, lagging forecasts.
The U.S. investment bank also cut its earnings estimates on Esprit by 15 to 16 percent for 2009 to 2010, and lowered its target price on the firm's stock to HK$75.8 from HK$105.5 per share.
"For the first time, the company has dropped its standard earnings guidance due to the tough environment, which is a major departure from their usual attitude that the macro is no excuse," Merrill Lynch said in its report.
Esprit derives half its turnover from Germany alone.
German business and consumer morale hit multi-year lows as Europe's biggest economy shrank in the second quarter, raising the specter of recession.
British clothing retailer Next Plc last month posted a 6 percent fall in first-half underlying sales, in line with forecasts, and said it expected a similar decline in the second half.
And rival Marks & Spencer posted a 6.2 percent drop in like-for-like clothing and homeware sales in the 13 weeks to June 28.
(US$1=HK$7.8)
(Reporting by Parvathy Ullatil; editing by Jonathan Hopfner)
© Thomson Reuters 2023 All rights reserved.