Estee Lauder profit even prettier than expected
May 5 - Estee Lauder Cos Inc posted a much better-than-expected rise in quarterly profit on Thursday as sales jumped in all markets and the Japan earthquake and its aftermath did not crimp results much yet.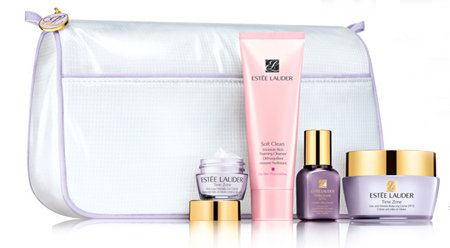 Estee Lauder travel
The cosmetics maker raised its full-year forecast, even as it plans to spend significantly more on advertising this quarter and sees events in Japan impacting results for a few months.
Estee Lauder's shares continued the climb they have been on for more than two years, gaining 2.3 percent to $98 in premarket trading.
Estee Lauder "is clearly benefiting from both a healthy middle- to upper-income consumer, as well as a strong new product pipeline," said Oppenheimer analyst Joseph Altobello. He kept his "perform" rating on the shares, as he said he believes the valuation is fair at this level.
Estee Lauder, known for its namesake cosmetics and lines such as Clinique and La Mer, said the disasters in Japan would likely cut full-year sales by half a percentage point and hurt sales for the next six to nine months.
The impact of disrupted business in Japan should cut earnings by 5 cents per share this fiscal year, which ends in June. At the same time, the company still has a cautious outlook in the Americas region and certain parts of Europe.
Estee Lauder's brands, which also include Origins and Bobbi Brown, cater to a more upscale clientele than rivals such as Revlon Inc, which market their goods in large chains and drugstores.
U.S. department stores have begun to see business perk up. Macy's Inc's April sales at its stores open at least a year rose more than Wall Street expected. It and other chains were supported by a later Easter this year.
PROFIT SOARS
Estee Lauder, which went public in November 1995, is majority-owned by the Lauder family.
Its earnings more than doubled to $124.7 million, or 62 cents per share, in the third quarter that ended on March 31, up from $57.5 million, or 28 cents per share, a year earlier.
Excluding restructuring charges, earnings were 71 cents a share, above the analysts' average estimate of 57 cents, according to Thomson Reuters I/B/E/S.
Its sales rose 16 percent to $2.17 billion, beating analysts' expectations of $2.05 billion.
Sales increased in all regions and in all product categories. In the Americas, the largest region, sales rose 12 percent, and in skin care, the largest category, sales climbed 14 percent.
Estee Lauder said it now expects earnings, excluding charges, to be $3.55 to $3.65 a share, up from its previous outlook of $3.40 to $3.60. Analysts on average forecast $3.66.
Sales should rise 10 percent to 11 percent in constant currency, it said. The weaker dollar was expected to add about 1 percent to sales.
It is one of the U.S. consumer goods companies most exposed to Japan, as the country accounts for 4 percent to 5 percent of its sales. On top of that, sales in Japan's airports make up about 3.5 percent of Estee Lauder's travel retail business, a highly profitable unit that has been growing rapidly.

(Reporting by Brad Dorfman and Jessica Wohl; Editing by Lisa Von Ahn and Maureen Bavdek)

© Thomson Reuters 2023 All rights reserved.