Estée Lauder's granddaughter goes solo
Aerin Lauder has just announced the creation of 'Aerin', her own luxury lifestyle brand that will offer accessories, jewellery, home products and a beauty line to be sold in prestigious department and specialty stores around the globe, beginning early 2012.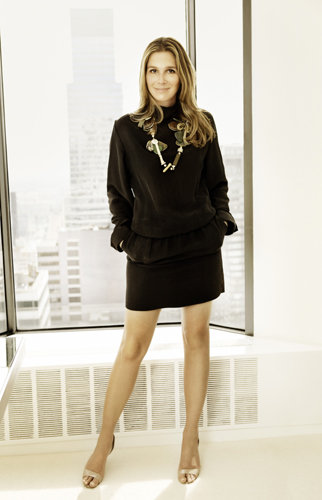 Aerin Lauder (Photo: Business Wire)
Aerin will represent the core values that Ms. Lauder has inherited from her renowned family legacy. She commented, "Aerin is saturated with the qualities that have surrounded me my entire life, many of which came from my grandmother, Estée: passion, style, hard work, family, and, of course, all things beautiful. AERIN is a luxury lifestyle brand that builds upon this heritage, for my generation and for those that follow."
Ms. Lauder also announced an exclusive, multi-year alliance with Estée Lauder Inc. to create the Aerin beauty brand, which will be sold at selected Estée Lauder counters. Ms. Lauder said "I am thrilled to continue working closely with the Estée Lauder brand, and look forward to playing an active role in the brand's future as well as launching the Aerin beauty line."
Prior to today's announcement and since 2004, Ms. Lauder had served as Senior Vice President and Creative Director for the Estée Lauder brand. Now, in the 18th year of her career at the Estée Lauder Companies Inc, she will become its Style and Image Director while remaining as Estée Lauder's global ambassador and spokesperson.
Ms. Lauder will be the Creative Director and Chairman for Aerin, which is entirely owned by her.
by Marina Felippe
Copyright © 2023 FashionNetwork.com All rights reserved.