Estée Lauder signs fragrance licensing deal with Marni
The US cosmetics giant has obtained the exclusive worldwide license to produce fragrances for Marni. Neither the terms of the agreement nor its duration were disclosed.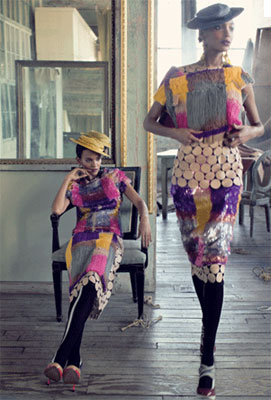 Marni campaign images by Steven Meisel
In a statement, Estée Lauder announced that the decanting, so-to-speak, including the development and marketing provided by the Aramis and Designer fragrances division of the group, will be announced in the fall of 2012. Veronique Gabai-Pinsky, president of Aramis and Designer Fragrances, said that "Marni complements our global strategy by taking advantage of our European high-end fragrance business," a business which includes licenses for the fragrances Ermenegildo Zegna, Missoni and Tom Ford.
Founded in 1994 by the couple Consuelo and Gianni Castiglioni, the Italian label Marni is now distributed in over 320 points of sale worldwide. First introduced with ready-to-wear clothing for women, the brand subsequently broadened its selection to include menswear in 2002. In recent years it has regularly shown the Marni Edition collections. Thus, with the arrival of perfume (after eyewear in 2005), the company continues to develop a global brand universe.
Copyright © 2023 FashionNetwork.com All rights reserved.