Euratex and the European apparel and textile industry addressed their grievances to Jose Manuel Barroso
In September, the European Commission will present the key elements of its new industrial policy designed to effectively fight against the economic crisis. Within this context, citizens, economic groups, unions and manufacturers are invited to deliver their comments by early August.

This was the opportunity for the Alliance for a Competitive European Industry, which consists of eleven major sectors of European industry—including textile and apparel through Euratex—to clarify its expectations. The representatives of the group met with the president of the European Commission and presented him a letter with several concerns.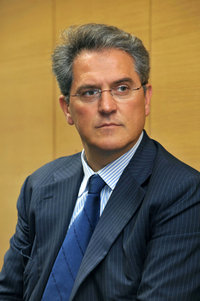 Alberto Paccanelli, president of Euratex.
For these industrialists Europe "must become more attractive to investors, particularly industrial investors, to ensure a genuine economic recovery." Clearly, these enterprises are expecting conditions conducive to development. They want "the EU regulatory environment to be both internationally competitive and to offer a balanced approach to the economy as companies move towards increasingly environmentally responsible modes of production. The development of an industrial policy focusing only on green economy is artificial. "
The demands of these industrialists therefore focus on policies that support their sustainability. They are asking for legislation that "has been carefully evaluated for its impact on competition and employment prior to its adoption, that it be stable, predictable, consistent with benefits for competitiveness, provide legal certainty and reduce red tape and allow for the introduction of new technologies in Europe. "
In conclusion, these manufacturers are calling for the liberalization of the market in areas where liberalization is not complete, such as energy, transport and digital technology. But they also want the support of Europe in promoting infrastructure investment and providing market surveillance "to ensure that all products on the EU market, whether imported or available in the EU, are in full compliance with the legislation."
The conclusions of the Committee in September will tell whether they were heard.
Copyright © 2022 FashionNetwork.com All rights reserved.