Fendi, Burlington in $10 mln counterfeiting accord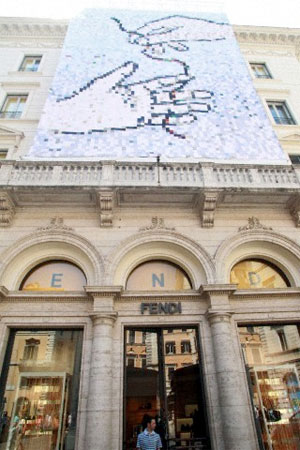 Fendi, Rome. Photo : Corbis
Oct 20 (Reuters) - Fendi, the Italian fashion house, said Burlington Coat Factory Warehouse Corp has agreed to pay $10.05 million to settle a dispute dating to 1986 over the alleged sale of counterfeit Fendi-branded leather goods.
The settlement follows U.S. Magistrate Judge Michael Dolinger's recommendation in August that Burlington pay Fendi just over $5.6 million in damages, attorney's fees and costs.
This sum was in addition to the roughly $4.7 million that U.S. District Judge Leonard Sand in February ordered Burlington to pay after violating a 1987 injunction against selling unauthorized Fendi-branded goods.
Fendi is a unit of the French company LVMH Moet Hennessy Louis Vuitton SA (LVMH.PA).
J. Joseph Bainton, a partner at Smith, Gambrell & Russell LLP representing Burlington, declined to comment.
Fendi said it originally sued Burlington in 1986 for selling counterfeit handbags, and filed a new lawsuit in 2006 after concluding the company was violating the injunction.
Sand had in February concluded that "the goods supplied by the vendors were counterfeit, and Burlington is liable for counterfeiting and false designation of origin."
Luxury goods makers such as Fendi regularly file lawsuits to protect their trademarks, and thwart alleged counterfeiters whose products they believe will damage their reputation, confuse consumers and reduce sales.
Fendi in June said it reached a $2.5 million settlement with the former parent of Filene's Basement to resolve similar counterfeiting claims.
The case is Fendi Adele SRL et al v. Burlington Coat Factory Warehouse Corp et al, U.S. District Court, Southern District of New York, No. 06-00085.
(Reporting by Jonathan Stempel in New York; Editing by Gary Hill)
© Thomson Reuters 2023 All rights reserved.