Ferragamo H1 shows resilience of luxury sector
Up-market Italian shoemaker Salvatore Ferragamo posted first-half profits up by a third on Monday, adding to evidence that the luxury industry remains vigorous through the global financial turmoil.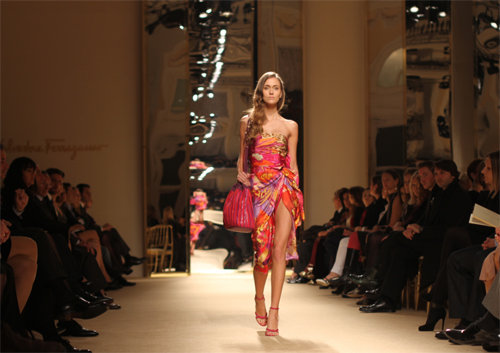 Salvatore Ferragamo catwalk in Moscow
The maker of shoes worn by Hollywood stars such as Angelina Jolie and Drew Barrymore said net profit rose 32.4 percent to 45.7 million euros ($66.4 million) in the period, showing continued demand for silk scarves and leather bags despite a fragile U.S. recovery and the euro zone debt crisis.
Investors flocked to the flotations of Prada in Hong Kong and Ferragamo in Milan in June, encouraged by their growing exposure to the higher-margin retail business in Asia.
Rivals such as PPR , LVMH and Burberry published record results last month.
The Florence-based family firm, which is less profitable than its peers, said first-half core earnings before interest, tax, depreciation and amortisation (EBITDA) rose 59 percent to 83.8 million euros, with a margin on sales of 18.2 percent from 14.9 percent a year before.
The company did not provide an outlook for the year.
Shares in Ferragamo closed up 3.8 percent at 11.69 euros, from an IPO price of 9 euros. The Milan blue-chip index was 2.3 percent higher.
(Editing by Will Waterman)
($1=.6886 Euro)
© Thomson Reuters 2023 All rights reserved.