Foot Locker, Hibbett results slip on weak sales
By Renju Jose
BANGALORE (Reuters) - Both athletic shoe retailer Foot Locker Inc (FL.N) and Hibbett Sports Inc (HIBB.O), which sells athletic shoes in addition to other sporting goods, posted disappointing quarterly results as consumers searched for a reason to shop in a discretionary retail environment.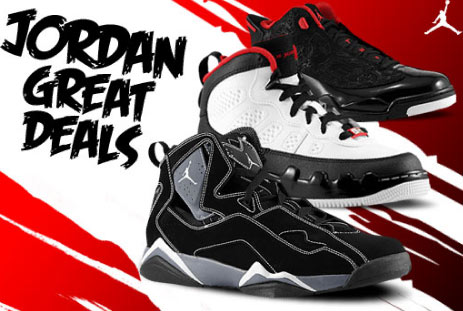 Jordan sneakers at Foot Locker - Photo: footlocker.com
Topline results at both companies were hurt by the absence of stimulus checks and a shift in tax-free holidays to the third quarter, when compared with the year ago period.
"The footwear business was not good at both the companies," Sterne, Agee & Leach analyst Sam Poser said by phone.
Hibbett Chief Executive Mickey Newsome said most merchandise categories were close to plan with the exception of footwear, which significantly underperformed against plan and negatively influenced product margins.
"The quarter was more difficult than we expected," the CEO said.
Same-store sales, a key gauge of retail performance, fell 12 percent at Foot Locker, while it dropped 10.5 percent at Hibbett.
However, earlier in the day, rival retailer Dick's Sporting Goods Inc (DKS.N) had posted a better-than-expected quarterly profit, helped by strong results at its namesake stores and tighter inventory management, and raised its full-year earnings view.
Sales at Foot Locker, which operates about 3,650 stores around the world under the names Foot Locker, Lady Foot Locker, Kids Foot Locker, Champs Sports and Footaction, fell 15.6 percent to $1.09 billion, while merchandise inventory fell 8.4 percent in the quarter.
The fall in same-store sales during the quarter fueled a rise in inventory, offset somewhat by improved expense controls.
"We successfully offset some of the impact of our sales shortfall by reducing our selling, general and administrative expenses, negotiating favorable occupancy costs and benefiting from lower depreciation expense," Chairman of the Foot Locker board Matthew Serra said.
Selling, general and administrative expenses at Foot Locker fell 15 percent to $252 million in the quarter.
Breakeven earnings during the quarter compared with analyst expectations of a 6 cent profit.
Birmingham, Alabama-based Hibbett, which sells sporting equipment, footwear, and apparel through some 750 stores located mainly in the Southeastern United States, earned $1.1 million, or 4 cents a share in the quarter, compared with analysts' mean view of 10 cents a share.
Sales at Hibbett Sports fell 5.5 percent to $123.1 million and the retailer slashed its full-year earnings forecast to 85 cents to 95 cents a share, from $1.03 to $1.17 a share earlier.
Sterne, Agee & Leach's Poser said Hibbett were probably playing it "safe" and were a little too "conservative" with their outlook.
"But if I were them, I would have probably done the same thing," he said.
Foot Locker shares were trading flat, after closing at $11.30 Thursday 20 August on the New York Stock Exchange. Hibbett fell 11 percent to $15.98 in after-hours trade on Nasdaq.
(Reporting by Renju Jose in Bangalore; Editing by Anthony Kurian)
© Thomson Reuters 2023 All rights reserved.