Foschini Q3 sales up 8.7 pct, new stores help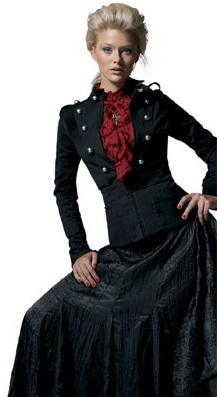 Foschini fall-winter 2008/2010
* Q3 same store sales up 2.7 pct
* Dec sales up 9.9 pct, same store up 3 pct
* In line with forecasts, shares outpace sector
(Adds details)
By Rebecca Harrison
JOHANNESBURG, Jan 16 (Reuters) - South African clothing retailer Foschini Ltd (FOSJ.J) posted an 8.7 percent rise in third-quarter revenue on Friday, in line with expectations, thanks to new stores and a relatively buoyant Christmas.
The company said sales rose 9.9 percent in December, with same-store growth of 3 percent. In the three months to end December, same store sales increased by 2.7 percent.
Foschini lagged its main rival Truworths (TRUJ.J), an investor favourite whose knack for translating top fashion into high street trends helped boost first-half sales by 9 percent, or 13 percent on a comparable period basis.
But analysts said the Foschini numbers were in line with expectations and were relieved it kept bad debt in check, although some worried it slashed prices to shift stock.
"The top line is dead in line with forecasts, but in these difficult times the worry is how much did they discount? I would expect a bit of margin compression," said one Johannesburg-based retail analyst who asked not to be named.
Foschini shares rose 1.05 percent to 48 rand by 0754 GMT, outpacing a weaker retailers index .JGERE but lagging a 2 percent stronger Johannesburg All-share index .
South African retailers have been struggling as consumers in Africa's biggest economy rein in spending to cope with relatively high interest rates and inflation. Job cuts and worries about global recession have not helped sentiment.
Higher prices and new stores have helped most retailers keep the top line rising and while some South African chains may have cut prices to lure consumers, they have so far resisted the deep discounts seen in Britain or the United States.
The Foschini and Truworths numbers added to signs Christmas trading in Africa's biggest economy may not have been as bleak as expected, after supermarket Shoprite (SHPJ.J) and clothing and homeware firm Mr Price (MPCJ.J) posted strong sales.
The biggest retailers are being closely watched for signs of how the South African economy is holding up, as a consumer recession raises pressure on the central bank to cut interest rates further.
South African retail sales fell for the sixth month in a row in October, likely helping influence the central bank's decision to cut its repo rate by 50 basis points to 11.5 percent in December. Economists expect more aggressive cuts this year.
Foschini said average prices rose 7.5 percent and said net bad debts were at similar levels to those reported at the half-year stage. (Editing by Jon Loades-Carter)
© Thomson Reuters 2023 All rights reserved.