G-Star and Bestseller go head-to-head over design rights
G-Star is angry at Bestseller, and it is not trying to hide it. The Deutch denim brand has just started a legal action against Danish Bestseller Retail Europe in 12 countries, accusing its Jack & Jones brand of imitating some specific designs of garments as well as G-Star's signature look and feel. Its Elwood jeans, G-Star's most popular model, were also supposedly copied by the Danish brand. G-Star stressed the importance of protecting its creations as a sign of respect towards its employees and retailers, even more so given the difference in price between Jack & Jones and G-Star.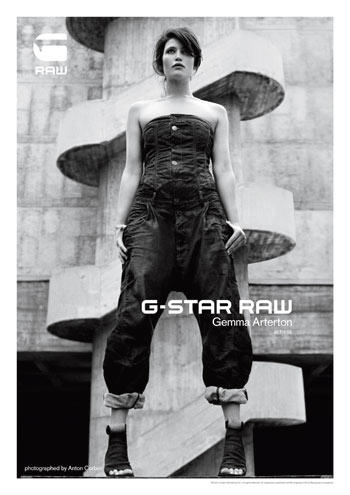 Gemma Arterton photographed by Anton Corbijn for G-Star
In addition to this, G-Star is also accusing Bestseller's other brand, Villa Clothes, of using an image of Gemma Arterton on one of its t-shirts. The model is currently the face of G-Star RAW's new campaign. "Villa started selling this t-shirt just after the global launch of G-Star's campaign, fronted by model Gemma Arterton. Once again, Bestseller has ignored legal procedures and ethics in the development of its products, since the Independent Talent Group Ltd had not formally authorized the use of Mrs Arterton's image on its garments", said G-Star on a press release.
Bestseller, on the other hand, is not the least impressed by these accusations. The Danish brand published a press release on May 4th entitled "Bestseller is amazed at G-Star accusations and questions their motives", where the group denies having copied the Elwood jeans design and claims that the photo on Villa Clothes' t-shirt is not of Gemma Arterton. Bestseller's corporate communications manager, Bo Terp, finished the statement by saying that they have reasons to believe that "the motives of G-Star are doubtful and must be seen in the light of the competitive environment and developments in the market. We welcome competition, but we are convinced that unsubstantiated accusations aimed at boosting the image of G-Star will not help them gain market shares."
Copyright © 2022 FashionNetwork.com All rights reserved.