Galeries Lafayette on acquisition trail: CEO
French department store group Galeries Lafayette, which is exiting supermarket chain Monoprix, is looking to acquire ready-to-wear, jeweler and fashion accessory brands and expand abroad, notably in China, its chief executive said.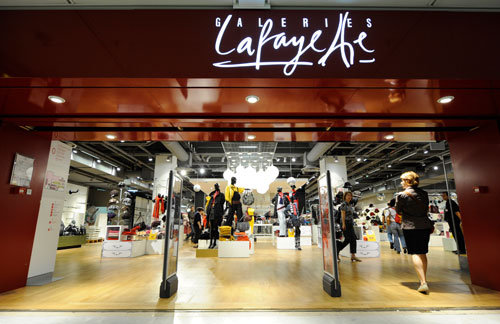 Photo: Pixel Formula
The group, whose flagship Paris store is popular with Asian tourists and whose peers range from Harrod's in London to Bloomingdale's in New York, had a "satisfactory" first half despite a gloomy economic climate, Philippe Houze told Reuters.
Houze was speaking as Galeries Lafayette clinched a deal to buy French jeweler Didier Guerin, a chain of 34 shops in the Paris region with 2011 revenue of close to 50 million euros ($61.1 million).
"We have the means to look at many opportunities," Houze told Reuters in an interview. "Maybe the crisis climate will make things easier. We are thinking about acquisitions that could be of a more significant size."
Last month, French retailer Casino (CASP.PA) agreed to pay 1.18 billion euros for the half of Monoprix it did not already own, ending a long-running dispute with Galeries Lafayette, its partner in the joint venture.
Monoprix, one of France's best-known chains located in city centers, generates 40 percent of Galeries Lafayette's annual profits and 38 percent of sales. It will exit Monoprix in 2013.
Founded in 1894, the unlisted Galeries Lafayette group also operates a chain of more than 60 department stores, including the Boulevard Haussmann store in the French capital.
And it owns the BHV home improvement store chain, the Royal Quartz and Louis Pion watch chains and half of consumer credit unit LaSer Cofinoga.
"The spirit of acquisitions (like Didier Guerin) is to strengthen in businesses that serve our multi-specialist strategy through their own know-how and expertise," Houze said.
CHINA TEST
Outside France, Galeries Lafayette owns one store in Berlin, which Houze said was profitable, and has a franchise in Dubai, which is due to break even in 2013.
It is also present in Casablanca, in Morocco, and plans to open stores in Djakarta and Doha in 2013 and 2014.
Galeries Lafayette will open its first Asian store in Beijing in 2013 in a joint venture with Hong-Kong fashion retailer I.T Ltd to grab a slice of the booming Chinese market.
Houze described the Beijing store as a test, saying his group was already looking for a second site in China.
Europe was another target for store expansion.
"We are looking at Europe, including the eastern part, with a partner or alone," he said.
With revenue of 5.6 billion euros and an operating margin of 7.5 percent last year, Galeries Lafayette employs 43,000 people.
Monoprix and the Galeries Lafayette stores were the main contributors to last year's sales and profits.
Commenting on the group's performance for the first six months of 2012, Houze said Monoprix's like-for-like sales rose 2.5 percent, while Galeries Lafayette store sales grew 8 percent.
Tourists account for nearly 45 percent of the Galeries Lafayette Paris store sales, with Asian visitors leading the way.
A gloomy economic climate has, however, weighed on consumer credit unit LaSer Cofinoga, which is restructuring and should still be in the red this year before recovering in 2013, Houze said.
Meanwhile, the BHV stores are struggling amid competition from specialized DIY stores such as Leroy Merlin and Castorama, with sales declining 2 percent in the first half.
Houze said Galeries Lafayette - which has announced plans to spend 800 million euros over five years notably to renovate its stores - would focus on making the flagship Rue de Rivoli BHV store near the Paris Hotel de Ville more upmarket.
© Thomson Reuters 2023 All rights reserved.