Gap gives Garance Doré pride of place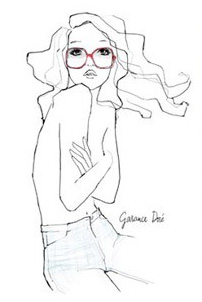 Garance Doré illustration for Gap
On the occasion of its 40th anniversary, Gap has surprised onlookers with an ephemeral boutique on Carnaby Street in London. On-site illustrations by French blogger Garance Doré will be exhibited, with some of them even selected to be put onto t-shirts from the brand.
This pop-up store will be open for a 19 day period starting on the 19th of September.
The store is a great accolade for Garance Doré whose eponymous blog has become a reference site for fashion lovers. Alongside her fashion illustrations, Garance Doré has also photographed looks she has seen on the street which tell a tale about current worldwide fashion trends.
As for this partnership with Gap, the idea came from Patrick Robinson – the brand's artistic director. T-shirts with the blogger's illustration on them will be sold in limited edition and exclusively for the duration of the event.
By Jonathan Fulwell (Source: C. Vautard)
Copyright © 2022 FashionNetwork.com All rights reserved.