Gap profit beats Street by a penny
SAN FRANCISCO, Aug 21 (Reuters) - Gap Inc said on Thursday that higher profit margins contributed to a rise in quarterly net profit that beat Wall Street projections by a penny, even as sales trends proved disappointing at its chains. Gap shares rose 1.5 percent in after hours trading.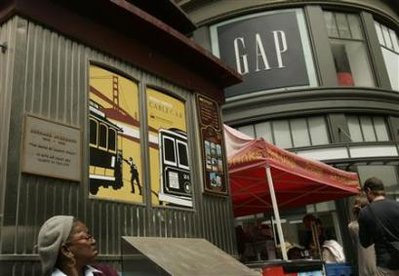 A Gap clothing store at the Cable Car turn in San Francisco, August 21, 2008 Photo : Robert Galbraith/Reuters
The owner of the Gap, Old Navy and Banana Republic chains said second-quarter net profit was $229 million, or 32 cents per share, compared with $152 million, or 19 cents per share, a year ago.
Results beat by a penny the 31 cents expected, on average, by analysts polled by Reuters Estimates.
Total sales fell 5 percent to $3.5 billion from $3.69 billion in the quarter, roughly in line with the nearly $3.51 billion expected by Wall Street.
Gap, one of the largest apparel retailers in the world with over 3,000 stores, has been trimming costs, reducing inventory and streamlining operations to shore up its business that has suffered due to years of sliding sales due to competition and fashion miscalculations on the part of the company.
Chief Executive Glenn Murphy has characterized 2008 as a turnaround year. A focus is on boosting profit margins, rather than sales, which some analysts believe will revive in due course as former Gap fans see that new product in stores is higher quality, on-trend and more age-appropriate than in years past.
Gross profit margins increased 390 basis points during the quarter. Gap said it now expects its fiscal 2008 operating profit margin will be roughly 10 percent of sales from its earlier view of 8.5 percent to 9.5 percent.
Inventory levels per square foot fell 17 percent in the quarter, the company said.
Gap also said it had scaled back its capital spending plan to about $450 million in fiscal 2008 from an earlier projection of $500 million due to fewer new stores and remodels.
The company reaffirmed its fiscal 2008 earnings forecast of a range of $1.30 to $1.35 per share.
Wall Street, on average, has been expecting full-year earnings of $1.35, according to Reuters Estimates.
Also on Thursday, Gap said Tom Wyatt had been tapped as Old Navy's new president, a role he has held on an interim basis since the previous head's departure in February.
Gap shares are valued at 14 times projected 2009 earnings, in line with the Dow Jones U.S. Apparel Retail Index .DJUSRT, but higher than Limited Brands Inc , which has roughly the same number of stores and is valued at 12.2 times expected forward-looking earnings. (Reporting by Alexandria Sage; Editing by Phil Berlowitz and Andre Grenon)
© Thomson Reuters 2023 All rights reserved.