Gap's Q4 shines but lack of outlook hurts shares
* Q4 EPS 34 cents vs Street view $0.32
* Q4 operating expenses down 18 pct
* Q1 inventory to be down in high single digits
* To close 100 stores in fiscal 2009
* Shares down 4 pct after-hours (Adds analyst comment, CEO quote, byline)
By Alexandria Sage
SAN FRANCISCO, Feb 26 (Reuters) - Gap Inc (GPS.N) on Thursday posted forecast-beating quarterly earnings despite a steep drop in sales, but the lack of guidance on the upcoming year spooked investors and sent its shares down 4 percent.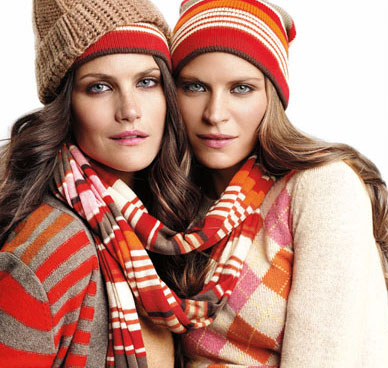 Campagne Gap
The operator of the Gap, Banana Republic and Old Navy chains pledged to keep trimming expenses and close stores amid a recession that has curbed shoppers' appetite for apparel.
But investors questioned a slowdown in the pace of inventory clearance, and an expensive marketing campaign aimed at galvanizing a struggling Old Navy chain.
"It's lack of guidance, it's inventory and the marketing push behind Old Navy," said Needham & Co's Christine Chen on the share drop. "When it (Old Navy) has been lagging the most, that begs the question, is that the best use of money?
"If you don't give guidance, the assumption in this environment is you're nowhere near where consensus is," Chen added. "In this environment, investors shoot first and ask questions later. That's the knee-jerk reaction."
The San Francisco-based company is in the midst of a turnaround effort as it tries to improve its product, stores and merchandising to recapture the loyalty of consumers who have gravitated to rival brands.
"We're much leaner, battle-tested and cash rich," Chief Executive Glenn Murphy told analysts on a call.
"Now, we have got to prove we can bring customers into our stores and drive the topline of our business."
Gap plans to close 100 of its more than 3,100 stores, most from within its eponymous chain, in fiscal 2009, in what Murphy called the "normal course of business".
But it also intends to open about 50 new stores during the year, with about half of those outside the United States.
The company is trying to downsize its Old Navy stores while consolidating other spinoffs, such as its Gap kids locations, into existing stores.
OLD NAVY MARKETING
Net income in Gap's fourth quarter fell 8 percent to $243 million, or 34 cents per share, from $265 million, or 35 cents per share. Analysts had expected earnings per share of 32 cents, according to Reuters Estimates.
As previously reported, revenue fell 13 percent in the key holiday quarter to $4.1 billion, while same-store sales, a measure of retail financial performance, fell 14 percent.
Retailers are struggling to prop up their bottom lines. On Thursday, Limited Brands Inc (LTD.N) reported a sharp drop in net profit as it wrote down the value of its La Senza lingerie chain and forecast a first-quarter loss that had not been expected by Wall Street.
Hardest hit among Gap's divisions has been Old Navy, the company's lower-cost chain, where same-store sales fell 17 percent in the quarter -- despite shoppers' recent preference for lower-priced chains.
A multimedia marketing campaign for Old Navy launched Thursday. Murphy said he had "a good enough comfort level" about that chain's new merchandise to justify such spending.
He argued that the company needed to take advantage of market opportunities, while the economy remained weak.
But some analysts were skeptical about Old Navy given its relatively newer management team.
"Why wouldn't you put the emphasis on Gap, which at the end of the day is your core brand," Chen asked.
Gap, which also operates the Piperlime online shoe store and the recently acquired Athleta active-wear brand, has been focused on maintaining profit margins during the transition.
Gross profit as a percentage of sales was relatively flat from the year-earlier quarter, and operating expenses fell by 18 percent. The retailer said it held $1.8 billion in cash at the end of the fiscal year, which ended Jan. 31.
For the first quarter, Gap said it expected operating expenses to fall between $10 million and $30 million.
Some analysts also pointed out that Gap might not have been as effective in reducing inventory to keep pace with tanking demand.
In the current environment, retailers have been trying to control inventory to avoid major markdowns if product does not sell.
Gap said it expects inventory per square foot to fall in the current quarter by a high single-digit percentage -- a sharp deceleration from the year-earlier first quarter, when inventory per square foot slid 17 percent.
Shares fell 4 percent to $10.90 from their close of $11.35 on the New York Stock Exchange. (Editing by Edwin Chan, Leslie Gevirtz)
© Thomson Reuters 2023 All rights reserved.