Gap shares a value play despite drab sales
Feb 7 - For all the questions over whether Gap Inc (GPS.N) can turn around its business after years of disappointing sales, it might still be a good retail stock to bet on this year.
Some analysts and investors say Gap's thick stash of cash and cheap valuation make it a good investment even if sales continue to decline a few percentage points this year, pointing to $500 million in costs that were taken out from fiscal 2007 through 2010.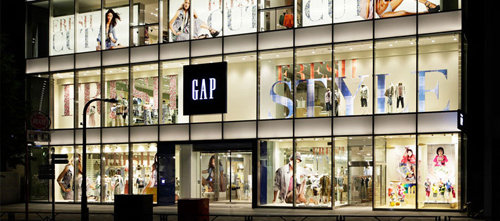 Photo Gap
It remains to be seen if the burst of color in Gap's new spring collection will find favor with consumers, but analysts say the business has at least stabilized and is generating decent cash flow.
"Outside of sales, we've been quite happy with the management's execution. They are doing a fantastic job on expense control, growth in online sales, and in returning the Gap's significant cash flow to shareholders through buybacks," said Connor Browne, a managing director at Thornburg Investment Management, which owns almost 11 million shares in the company.
The San Francisco-based retailer, which owns Gap, Old Navy and Banana Republic, generated $1.2 billion of free cash flow and distributed $2.2 billion to shareholders through buybacks and dividends in fiscal 2010. Gap Inc is expected to report fourth-quarter earnings on Feb. 23.
Browne is also looking forward to easier year-on-year comparisons, and a significant boost from lower cotton costs.
"Even if comparable sales are down 2-3 percent this year, we will still get good earnings performance. We aren't necessarily betting on a positive comp performance, but if that happened, what it could do to the stock would be explosive," he said.
After a series of senior management changes that promoted the chief of its outlet stores to run the Gap brand's domestic business in February 2011, the company also aggressively cut costs and trimmed its mammoth business.
Once the go-to destination for the casual American style, Gap has in recent years disappointed shoppers with its boring styles, resulting in weak sales and huge discounts.
But its cash cushion is keeping the company from losing favor with equity analysts as well, particularly as the stock is relatively cheap compared with other apparel chains.
Gap trades at around 12.3 times forward earnings according to StarMine data, lower than rivals like Uniqlo parent Fast Retailing Co (9983.T), H&M owner Hennes & Mauritz AB (HMb.ST) and Zara owner Inditex (ITX.MC) which trade at over 19 times.
Paul Lejuez, analyst at Nomura, had a "neutral" rating on Gap "because they still draw a very good cash flow," as did Dorothy Lakner, analyst with Caris & Co.
"Even in a bad year Gap will generate a billion dollars in free cash flow. And they have been using that to buy back shares and fund the dividend. That is a pretty stabilizing factor I would say," Lakner said.
SPRING POP
For almost a decade now, Gap has struggled with fashion, losing out to rivals like Inditex, which overtook Gap as the world's biggest clothing retailer by sales in 2010.
On Feb. 2, Gap posted a 4 percent fall for January comparable sales, better than the 4.9 percent fall that analysts were expecting, raising hopes of a potential rebirth.
"Sales trends are stabilizing and should begin to show further improvement in fiscal 2013," Jefferies & Co analyst Randal Konik said in a note.
"We see improvement in the Gap brand merchandise with a return to color in the Spring 2012 collection," wrote Konik, who called the stock a "must buy for 2012."
Last year during spring and even in the latest holiday season, the company's sales were hurt by a ho-hum line of clothes that lacked color.
This time, brightly colored denims and shirts have been shipped in stores over the past week, though the company itself is being cautious about raising expectations.
"While first reads are showing some promise, the full spring product expression will not be in Gap stores until mid-February so it's too early to draw any conclusions," Gap spokeswoman Louise Callagy told Reuters.
Industry experts are more enthusiastic.
"This is Gap's first product set in many years that marks a significant improvement in product design and styling, and represents a much more balanced mix of tops and bottoms as well as basics and trend pieces," said Lisa Walters, principal at Retail Eye Partners, a consulting firm that analyzes trends and performances at retail stores.
"This product ... has the potential to improve sales and margin performance at Gap stores, and we are hoping to see these improvements continue to the next Spring and Summer sets," she said.
ALL THINGS TO ALL PEOPLE
While some investors have been satisfied with signs of improvement in the business, Gap is not out of the woods yet.
Retail consultant Jan Kniffen is skeptical about whether the company can turn around its business, saying Gap Inc is too old and big to keep growing.
"Gap, unfortunately, has passed its prime long (ago) ... it is too big (and will) keep shedding market share for years from now," said Kniffen.
Gap is in 90 countries and has 3,100 company-operated stores, and about 200 franchise stores and e-commerce sites. Some analysts think it should focus on fixing its domestic business before expanding too aggressively overseas.
Today, shoppers mostly go to its stores for the omnipresent deals.
"Even in Europe they are all about discounts. The young blood does not think of the brand as a go-to destination," said Rahul Sharma, founder of London based consulting firm Neev Capital.
Credit ratings analyst Philip Zahn with Fitch Ratings has a BBB- on the company, saying the agency based that rating on the hopes that sales at Gap would stabilise this year, when the new team gets to show its merchandise.
If not, the next step is a "junk" rating.
"Before too long, we will need to see their sales trends begin to stabilize and I think it is reasonable to expect that starts happening in spring," Zahn said.
(Nivedita Bhattacharjee in Chicago, editing by Matthew Lewis)
© Thomson Reuters 2023 All rights reserved.