Gap to open first Old Navy overseas in 2012
April 19 - Gap Inc plans to open its first Old Navy stores overseas by the end of next year to accelerate an international push aimed at reducing its reliance on North America, where sales have been declining.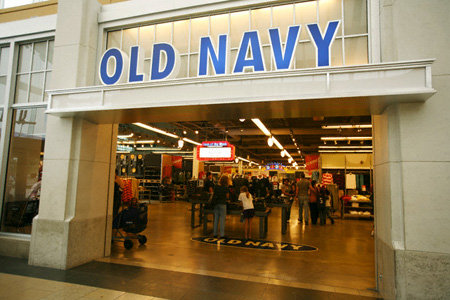 Consumers shop at an Old Navy store in Paramus, New Jersey.
Gap, which also operates the Banana Republic chain and namesake stores, said on Tuesday that it would bring together its international businesses under one division to be run from London.
The moves come as the clothing retailer is looking to mitigate softening business in North America, where it got 78 percent of its sales in 2010.
In March, comparable sales at all three of its chains fell by 8 percent or more in North America. Overall, sales at company stores open at least year fell 10 percent worldwide, a steeper fall than analysts were expecting.
The company has set a goal for at least 30 percent of sales to come from its international and online businesses by 2013.
Gap expects the first Old Navy store to open in Japan by the end of 2012.
Shares were down 5 cents or 0.2 percent, to $21.74 in morning trading.
(Reporting by Phil Wahba)
© Thomson Reuters 2023 All rights reserved.