Geox sticks to outlook despite Italy concerns
August 8 - Italian shoemaker Geox stuck to its 2011 outlook on Thursday despite concerns over the economy in its main home market, saying its backlog for autumn/winter orders was up by 8 percent.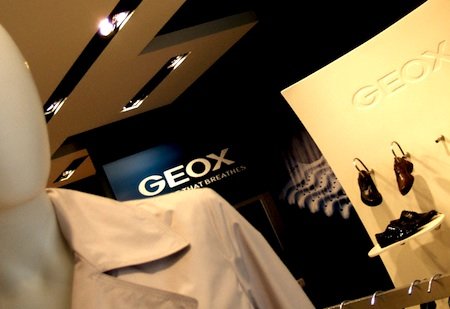 New York City Geox Shoe Store - photo: corbis
The maker of "no-sweat" shoes said it was confident of meeting revenue targets of between 880 million euros ($1.25 billion) to 890 million euros this year, helped by double-digit sales growth in fast-growing Eastern Europe, China and Russia.
First-half sales rose 3 percent to 448.3 million euros, in line with an average forecast in a Thomson Reuters I/B/E/S poll of analysts.
A spike in raw material prices and labour costs, coupled with negative currency exchange rates, will continue to erode margins but less aggressively than in the first half of the year, Geox said.
"I am satisfied with the prospects for the second half of the year as the Fall/Winter order backlog from our multibrand and franchising customers has gone up by 8 percent," Geox's founder and Chairman Mario Moretti Polegato said in a statement.
Known for its "breathable" shoes and clothes, the 15-year-old family company is betting on an "affordable luxury" offer to attract fashion-conscious, but cash-strapped, customers.
The planned opening of 100 new monobrand stores this year, most of which with franchise partners in Italy, will help boost the brand image, it said. A major opening is planned in central London in September, ahead of the 2012 Olympic Games.
"Our customers pay around 100 euros for a pair of shoes. They come from the middle class, the most sensitive to economic concerns," Massimo Stefanello, Geox's managing corporate director, told Reuters. "But we are confident to meet our targets," he said.
A lukewarm spring-summer collection and a lower gross margin contributed to a 36 percent drop in first-half net profit.
However, Geox said it expects the second-half gross margin to be back in line with the same period of 2010.
(Reporting by Antonella Ciancio; Editing by Erica Billingham)
© Thomson Reuters 2022 All rights reserved.