Gianfranco Ferré says goodbye to Tommaso Aquilano and Roberto Rimondi
End of the road for the Italian duo Tommaso Aquilano and Roberto Rimondi at Gianfranco Ferré. Working there since 2007, it seems like the two designers were not part of the plans that Paris Group had for the Italian House, since its acquisition last February.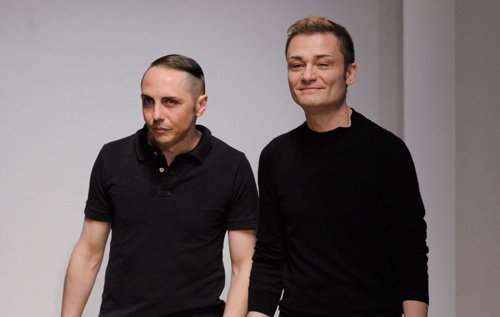 Roberto Rimondi and Tommaso Aquilano. Photo : Pixelformula.
Tommaso Aquilano and Roberto Rimondi had been in charge of design for Gianfranco Ferré womenswear not long before the death of the symbolic Italian couturier. They succeeded Lars Nilsson after the latter's brief time at the company and thus quickly broadened their field of expertise in men's fashion. The duo became well-known thanks to their own line 6267, which was later renamed Aquilano Rimondi.
After the fashion house, which is owned by Italian group IT Holding, was bought by Paris Group, doubts began to emerge over the designers' future. The brand's destine now lies in the hands of Ahmed Sankari, son of Abdulhader Sankari and owner of the Dubai-based group. He did however decide to keep Michela Piva in her role as CEO.
The name of the future designer(s) is yet to be revealed by Paris Group. Having also recently acquired French fashion house Louis Féraud, the group has been serving as the distributor of numerous luxury brands in the Middle East for more than 20 years.
Copyright © 2023 FashionNetwork.com All rights reserved.