Giorgio Armani organizing staff as successors
By Amie Ferris-Rotman
MOSCOW (Reuters Life!) - Italian fashion designer Giorgio Armani, still frail after a bout of hepatitis, hinted on Tuesday 27 October of succession plans for his vast clothes empire after his retirement and joked about his appearance.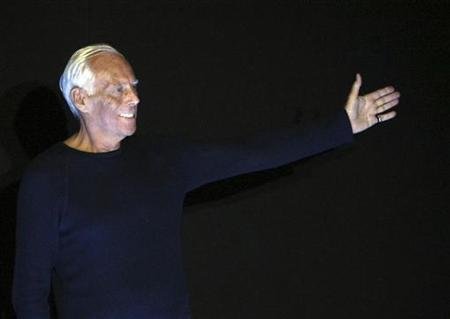 "I'm already organizing staff who will continue my work," 75-year-old "King Giorgio," as he is known in Italy, told reporters in the Russian capital, where he had jetted in to support its crisis-hit fashion industry.
"Of course I am not eternal, there comes a time when you must hand it over."
Known for his shrewd business sense, Armani has been more vague about his plans than other designers of his generation and has not publicly designated a successor on either the creative or the management side. Valentino Garavani retired last year.
Late last month, Armani made several management changes, signaling an easing of his workload and the designer is reshuffling his agenda to take better care of himself.
Widely regarded as the doyen of Italian fashion, he has kept investors guessing on the future of his company, at times hinting at a bourse listing and at other times signaling he could sell the group.
Dressed in a sleek black suit, Armani joked with reporters about his appearance: "You see how I am, I don't look bad yet, do I?" he remarked to a roaring round of applause.
Deputy General Manager John Hooks, who in January will become deputy chairman and join the board, said most of the damage from the recession for both Armani and the fashion industry has bottomed out.
He added the fashion house will keep the same expansion pace over the coming years as in 2009, in which Armani opened around 50 new stores but said it will lose profits this year.
"We'll keep the same rhythm for 2010, 2011," he said, referring to store openings.
Armani is the first major designer to come to Moscow since the crisis hit over a year ago. The world's fourth-largest luxury market took a major blow earlier this year, when profits dropped by a third and boutiques boarded up windows.
Hooks said that although 5 percent of Armani's wholesale goes to Russian clients annually, Russian buyers abroad make the country a key market for the designer, known for his classically elegant lines and muted colors.
"Few capital cities have made the impression Moscow has on me," Armani said.
Separately, the fashion house said it has launched a mobile telephone platform for e-commerce, allowing iPhone, Android and Blackberry users as well as those with the most advanced mobile phones to shop for Emporio Armani clothes from their handsets.
The new platform will go live on November 25 and will be available in all countries where customers can buy goods from Armani's Emporio Armani brand online.
(Reporting by Amie Ferris-Rotman, additional reporting by Marie-Louise Gumuchian in Milan; Editing by Steve Addison)
© Thomson Reuters 2023 All rights reserved.