Gucci, Alfred Dunhill and Chloé sue the Bank of China
Gucci, Alfred Dunhill and Chloé have demanded $4 million between them in damages from the Bank of China for not having released documents in the case of the online sales of counterfeit handbags, reported Bloomberg.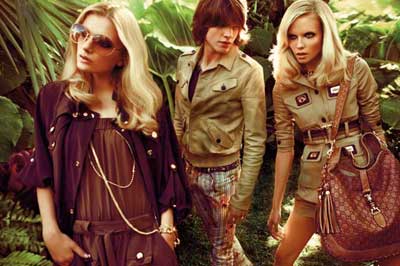 Gucci campaign spring-summer 2009
A brief reminder: in 2007 Gucci America, subsidiary of PPR, Chloé and Alfred Dunhill (from the Richemont group) accused a Malaysian banker of having copied their bags, belts and watches and having subsequently sold them in the USA over the internet. Damages were estimated at $4.3 million.
A Manhattan judge requested that the Bank of China freeze the account of the financier, named as Kelvin Cho, and ordered the accused to pay $4.3 million for counterfeiting. The plaintiffs now accuse the bank of allowing the counterfeiter to empty his accounts. In 2008 a judge therefore ordered the bank to pay $190,000 and to provide the necessary documents to follow the money trail.
On the 2nd of June, Gucci and Richemont were once again in court accusing the bank of not conforming to "almost all of the conditions of settlement", referring to payment, and claiming $4 million and a daily constraint until it is carried out, reported Women's Wear Daily.
A spokesperson for the bank in question explained to Bloomberg that the proceedings were baseless, but did not wish to add any other comments.

By Jonathan Fulwell (Source: Sarah Ahssen)

Copyright © 2022 FashionNetwork.com All rights reserved.