Gucci Group sees Balenciaga as a rising star
VENICE, Italy (Reuters) - Balenciaga, the trendy fashion house favoured by actresses such as Charlotte Gainsbourg, is the fastest growing brand within the Gucci Group and meeting all pre-crisis targets, its head said on Monday 7 September.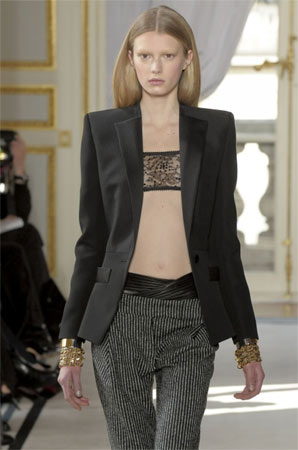 Balenciaga autumn-winter 2009/2010 - Photo: PixelFormula
But the group as a whole, whose brands include Gucci and Stella McCartney, does not believe good days are around the corner and it is preparing itself for a continuing downturn just as it is for an eventual upturn, he added.
"I am not more optimistic now than I was a year ago," Robert Polet told Reuters in an interview on the fringes of the Venice film festival. Polet was attending festival to grant the Gucci Group Award which pays tribute to an artist's contribution to film-making.
"I see the world as being prepared for everything. You do not want to miss an upturn when the upturn comes but you do not want to build up inventories either."
Polet also said he could not predict whether Christmas 2009 would be better than it was last year and declined to be drawn on the group's summer trading.
Gucci Group, the world's third largest luxury company behind LVMH (LVMH.PA) and Richemont (CFR.VX) in terms of sales, is owned by French retailer PPR (PRTP.PA) which is pursuing a combative plan centered on cost-cutting and cash-preservation.
Balenciaga, which became profitable in 2005, was elevated to the status of a main strategic brand within the Gucci Group two years ago alongside Gucci, Bottega Veneta and Yves Saint Laurent, which meant more resources were allocated to it.
"Balenciaga is the fastest growing brand in the group and it is delivering on all the things it set out to do two years ago," Polet added.
Acquired by the Gucci Group in 2001, Balenciaga has become the darling of fashionistas under the creative stewardship of Nicolas Guesquiere, the brand's designer since 1997.
A person close to Gucci Group, who did not wish to be identified, said Balenciaga has seen sales grow in "double-digit terms" for the past three years on a reported and comparable basis.
Polet declined to give precise figures on Balenciaga's growth and profitability.
CRISIS-PROOF
Even though Balenciaga is starting from a lower base than more established brands, its performance makes it part of the Pantheon of luxury products enjoying relatively crisis-proof growth such as Louis Vuitton and Hermes leather goods.
Most luxury products' sales have collapsed since last year as the industry suffered its deepest spending slump in recent memory.
Consultancy Bain & Co estimated global luxury sales dropped between 15 and 20 percent in the first half and predicted overall they would fall by about 10 percent at constant exchange rates in 2009 thanks to improved trading in the second half.
Consumers' belt-tightening has led to the downfall of several high-profile fashion houses including Christian Lacroix in France, Escada in Germany and Mariella Burani in Italy.
The collapse of world financial markets has affected even the super-rich, putting an abrupt end to the spending boom of the past decade during the which the luxury industry doubled in size to reach about 170 billion euros in 2008.
"I think what we have been through in the last year and a half has been a recalibration, a return to a back to normal period.... The spending at the peak was over the top," Polet said.
He said Gucci Group had cut advertising spend this year and slashed capital expenditures by 25 percent.
"In September, we shifted our mind from a high growth environment to a no growth environment or even a decline, so we moved quickly to focus on cash and maximizing our growth," Polet said.
Since September, the group has frozen salaries, including his own and stopped hiring, he added. It has also tightened its supply chain.
Brought in 2004, Polet replaced Gucci Group's dream team of Domenico de Sole and Tom Ford after spending more than 26 years at Unilever, where he used to run the ice-cream and frozen foods unit.
Since then, he has managed to impose himself as an authoritative figure in the fickle luxury goods industry.
While the group's network of shops was resisting better during the downturn than its wholesale operations, Polet said reducing exposure to wholesellers was not on the agenda.
About 70 percent of sales of the Gucci brand come from its own retail outlets and 30 percent from wholesalers while Bottega Veneta's sales are divided between about 80 percent from its own shops and 20 percent from wholesellers, Polet explained.
"Changing that ratio is not a target per se," he said about the two brands.
(By Astrid Wendlandt. Editing by Hans Peters)
© Thomson Reuters 2023 All rights reserved.