Gucci wins $4.66 million, ban on Guess knock-offs
A U.S. judge said Gucci may recover just $4.66 million in its lawsuit accusing apparel retailer Guess Inc of copying its trademarked designs, a small fraction of the more than $120 million sought by the Italian luxury goods company.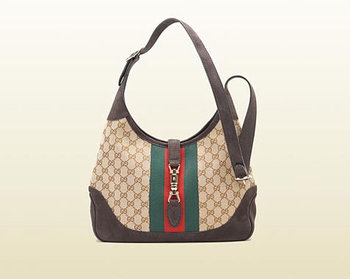 Gucci's green-red-green stripe, which Guess is accused of copying / Photo: Gucci
U.S. District Judge Shira Scheindlin said that while Guess infringed some trademarks, Gucci was not entitled to damages reflecting lost sales or harm to its brand, calling an analysis from its damages expert "highly speculative."
She also awarded Gucci, a unit of Paris-based PPR SA, a permanent injunction against Guess' use of three of the four challenged designs. The payout reflects profit from specific items where Gucci trademarks were infringed.
Gucci had accused Guess of trying to "Gucci-ize" its product line by selling wallets, belts, shoes and other items whose designs copied or mimicked its own. It claimed that this confused customers and diluted its brand.
Louis Ederer, a lawyer for Gucci, did not respond immediately to a request for comment.
Paul Marciano, CEO of Guess, said in a statement the judgment showed Gucci had "overreached" and "misled the court with a number of facts that were unsupported by the evidence."
"Overall, we are extremely satisfied and vindicated that this case should have never been filed," Marciano said.
A lawyer for co-defendant Marc Fisher Footwear LLC, which the judge held responsible for some of the payout, did not respond immediately to a request for comment.
Gucci had challenged Guess' alleged infringement of four designs: green-red-green stripes, a stylized "Square G," a group of four interlocking "G"s known as a "Quattro G," and a script logo. All but the last of these are covered by the injunction.
Gucci, founded in 1921, is one of many luxury goods companies to sue alleged copycats.
Scheindlin last month oversaw a three-week, non-jury trial in the case, resulting in Monday's 104-page opinion.
"Over the past three years, the parties have put in countless hours and spent untold sums of money, all in the service of fashion - what Oscar Wilde aptly called 'a form of ugliness so intolerable that we have to alter it every six months'," she wrote.
In the wake of her decision, "it is my hope that this ugliness will be limited to the runway and shopping floor, rather than spilling over into the courts," she added.
The case is Gucci America Inc v. Guess Inc et al, U.S. District Court, Southern District of New York, No. 09-04373.
© Thomson Reuters 2022 All rights reserved.