Guess misses 2010 view, denim dominance fears end
SAN FRANCISCO, Aug 25 (Reuters) - Guess Inc (GES.N) on Wednesday missed analysts' expectations for its full-year profit forecast and warned that the economy in many markets remained uncertain, sending its shares down nearly 6 percent.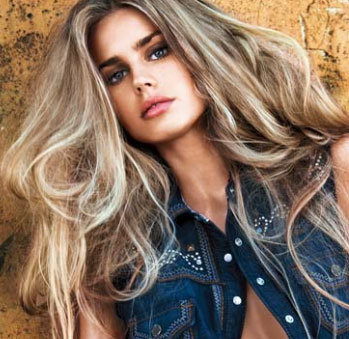 www.guess.com
The U.S. retailer and wholesaler known for its jeans also cited faltering store traffic in its U.S. stores during its second quarter and promotions by retail competitors.
The company forecast lower operating margins for its third quarter and called out the negative effect of a strengthening U.S. dollar on its European business as products abroad become more expensive.
The Los Angeles-based company issued the same 2010 profit forecast it first gave in May -- a range of $2.80 to $2.85 per share, disappointing investors who had hoped for a raise.
Wall Street had been expecting full-year profit of $2.92 per share on average, according to Thomson Reuters I/B/E/S.
Revenue is expected to range between $2.35 billion to $2.40 billion, compared with a Wall Street view of $2.39 billion.
END OF DENIM DOMINANCE
A shift away from denim bottoms, which fashion watchers have noted as a new trend, is an opportunity to sell more product, executives said.
"We are basically at the end of the denim dominance," said Chairman and co-Founder Maurice Marciano. "Now, we have non-denim fabrics coming up and I look at that as a tremendous opportunity."
Shoppers will continue to buy jeans, Marciano said, but they will now supplement their wardrobes with one or two pairs of other bottoms, whether corduroy or twill.
"It's my strong sense, we'll end up selling more bottoms," Marciano said, reiterating that Guess' stores offer a variety of 'lifestyle' product.
Denim makes up about 30 percent of the company's total product.
Guess said it sold more pairs of leggings and shorts in the second quarter to make up for fewer jeans sold.
Net income in Guess' second quarter ending July 31 rose 12 percent to $66.8 million, or 72 cents per share, from $59.6 million, or 64 cents per share, a year earlier.
Analysts, on average, expected earnings of 68 cents per share.
Revenue rose 10.5 percent to $577.1 million, helped by increases in the company's North American and European businesses. Analysts were expecting revenue of $576.4 million.
Operating margins fell to 16.7 percent of sales from 17.4 percent in the second quarter.
For the third quarter, Guess said it expects earnings to range between 55 cents to 58 cents per share on revenue of $565 million to $580 million. It expects operating margins around 13.5 percent of sales.
Wall Street expects earnings of 57 cents per share.
Shares fell nearly 6 percent to $36 after rising 2 percent to $38.23 on the New York Stock Exchange.
(Reporting by Alexandria Sage. Editing by Robert MacMillan, Leslie Gevirtz)
© Thomson Reuters 2022 All rights reserved.