H&M's September sales seen up 2% year on year
STOCKHOLM, Oct 9 (Reuters) - Swedish fashion chain Hennes & Mauritz (HMb.ST) is expected next week to report sales in September rose 2 percent on a year ago, according to the average forecast given by analysts in a Reuters poll on Friday 9 October.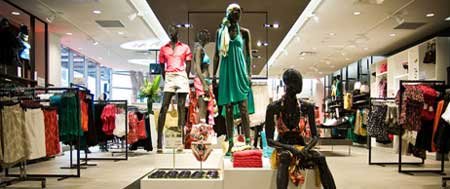 H&M
Individual estimates in the poll of 10 analysts ranged from no change in sales to a 5 percent rise.
Sales in stores open for more than a year were seen falling 7 percent, according to the average forecast, with estimates ranging from a 9 percent fall to a 4 percent drop.
In Germany, H&M's largest market, clothing sales fell 4 percent in the month, according to industry journal Textilwirtschaft. In the firm's third biggest market, Sweden, the HUI/Stil index for clothing sales was down 1.9 percent.
In August H&M surprised analysts with a total sales drop of 3 percent while like-for-like sales tumbled 11 percent.
H&M is due to publish the September figures at 0600 GMT on Oct. 15. It does not release absolute sales figures, only the percentage change in local currencies.
Analysts from Alandsbanken, Deutsche Bank, Evli Bank, Handelsbanken Capital Markets, HQ Bank, Nordea, Ohman Fondkommission, SEB Enskilda, Swedbank and Sydbank participated in the poll. (Reporting by Veronica Ek and Katarina Gustafsson; Editing by Greg Mahlich)
© Thomson Reuters 2023 All rights reserved.