H&M to up China store count, eyes Asia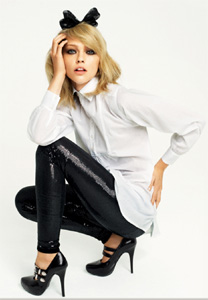 H&M
By Fion Li and Donny Kwok
HONG KONG (Reuters) - Swedish fashion giant Hennes & Mauritz (H&M), the world's No.3 clothing retailer, said on Thursday 17 September that it aims to raise its Greater China store count by nearly 30 percent by year end as part of a broader push into Asia.

H&M, which competes with Gap Inc of the United States, Spain's Inditex and Japan's Fast Retailing, operator of the Uniqlo casual clothing chain, said opening stores in Hong Kong helped pave the way for the company's expansion into Asia.
"We are using it (Hong Kong) as a platform to operate in Asia, because after mainland China, we also opened in Japan. We will also open in Korea next year," Lex Keijser, H&M Greater China country manager, told Reuters on the sidelines of a new store opening in Hong Kong.
"It (the Asia market) could be the newest and biggest market for H&M in future, because there is so much potential if you look at Asia. We've just started in Hong Kong, mainland China, Japan and Korea," Keijser said in an interview. "We are still a baby, but a fast-growing baby."
EXPAND STORE COUNT IN GREATER CHINA
H&M, which has four stores in Japan and is opening its first in Korea next March, aims to raise its Greater China store count by nearly 30 percent by the end of December to 27 from the current 21.
Keijser said he saw huge opportunities in mainland China.
"We have only 15 stores in a population of 1.3 billion, so there are so many things to do."
The company had 15 stores in China and six in Hong Kong, with six more set to open in China this year, he said.
"As the economy grows in China, we also will grow," Keijser said. "We will grow where we have possibility ... All the major cities in China are a possibility for us," he said. "We don't want aggressively open ... We want to open in a controlled way."
H&M, which in June signed up luxury shoemaker Jimmy Choo Ltd as the latest in a string of high-profile guest designers, has over 1,800 shops in more than 30 countries, with its principal markets in Germany, the United Kingdom and Sweden.
"We see huge potential in Taiwan," Keijser said. "It's on our wish list, but we don't know when." H&M has not yet opened any stores in Taiwan.
While foreign brands seek to strengthen their presence in China, the fashion industry there is keen to move on from being a mass manufacturer of clothes and wants to own Western brands and sell them to Chinese consumers. And the list of Western brands up for sale is only expected to get longer as clothing makers continue to reel under the weight of a global recession.
H&M and Inditex, Europe's biggest clothing retailer, which owns the Zara chain, have so far weathered the downturn better than mid-market rivals such as Britain's Marks & Spencer and Next, helped by a focus on low-cost, fast-moving fashions, and geographic spread.
(Editing by Chris Lewis)
© Thomson Reuters 2023 All rights reserved.