Harry Winston Q2 diamond output up on higher grades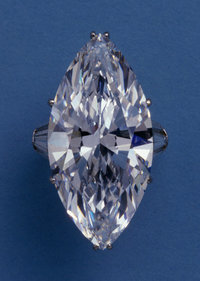 Diamond ring by Harry Winston
Bangalore | Thu Jul 14, 2011 - (Reuters) - Diamond miner and retailer Harry Winston (HW.TO) posted a 4 percent rise in ore processed in the second quarter, helped by the recovery of higher grades, and the company will hold three rough diamond sales by the end of July.
Harry Winston, which owns a 40 percent stake in Diavik, Canada's largest diamond mine, produced 1.79 million carats from 500,000 tonnes of ore processed in the second quarter.
Carats recovered were 11 percent higher, helped by an increase in the overall grade of the ore processed, the luxury jewelry and watch maker said in a statement.
Toronto-based Harry Winston, which is in a joint venture with Rio Tinto (RIO.L) on the Diavik mine located in Canada's Northwest territories, backed the mine's output target of 6.9 million carats this year.
Shares of the company closed at C$16.36 on Wednesday on the Toronto Stock Exchange.
(Reporting by Gowri Jayakumar in Bangalore; Editing by Maju Samuel)
© Thomson Reuters 2023 All rights reserved.