Hermes shines with best first quarter sales of luxury sector
By Astrid Wendlandt
PARIS, May 6 (Reuters) - Hermes posted the biggest surge in first-quarter sales of all European luxury goods companies on Thursday 6 May, pointing to a continued polarisation of the market in which well-established brands crush weaker rivals.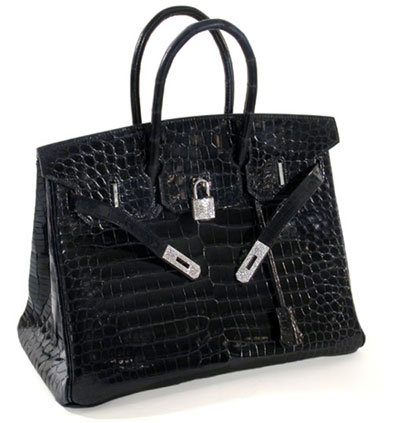 Birkin bag by Hermès
The maker of 15,000-euro ($20,100) crocodile handbags and silk scarves confirmed the nascent rebound in the luxury goods market, particularly in the United States where sales rose 25 percent at constant currencies during the first quarter.
In Europe -- a market highly dependent on tourists -- Hermes revenue rose 15 percent, while in Asia, exluding Japan, it was up 47 percent.
Overall, Hermes sales in the three months to March 31 rose 18.5 percent to 507.7 million euros, or 20.2 percent at constant currencies.
By comparison, like-for-like sales from fashion and leather goods at luxury giant LVMH rose 10 percent in the first quarter, while at Gucci Group they were 6.1 percent higher. During Burberry's first-half, they rose 6 percent.
But looking ahead, Hermes Chief Executive Patrick Thomas said he expected the company's growth rate to slow down during the year, due to in part to an increasingly unfavourable comparative basis.
"Towards the end of the year, we should see a slower growth rate than during the beginning of the year," Thomas told Reuters in an interview.
Thomas added that the company was "not very optimistic about 2010" but confirmed its sales growth target of at least 5 percent and expectations of a slight increase in operating margin.
He said that one of Hermes's biggest markets, Japan, where sales fell 2 percent in the first quarter, would finish the year with a slight increase.
Responding to speculation earlier this week that family shareholders might sell some shares after ex-chairman and shareholder Jean-Louis Dumas passed away, Thomas said they still planned to hold on to their stakes.
Several brokers, including Vontobel, Credit Suisse and HSBC, said Hermes's full-year sales target looked too conservative and planned to lift their 2010 forecasts.
Vontobel said it would increase its current-year sales growth forecast to 10 percent from around 8 percent at constant currencies.
"Despite the strong improvement in Q1, we were quite surprised not to see an upgrade of the FY10 guidance but according to management, the environment continues to be uncertain," HSBC said in a note.
Hermes shares were up 3.55 percent at 102.70 euros at 1054 GMT.
(Editing by James Regan and Andrew Callus) ($1=.7709 Euro)
© Thomson Reuters 2023 All rights reserved.