Hermes to open first Brazil store this year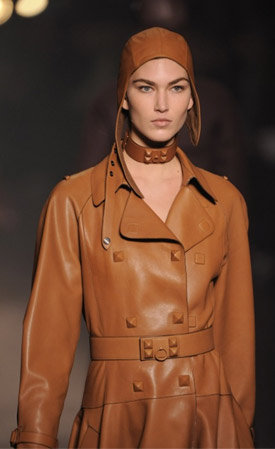 Hermès collection autumn-winter 2009/2010
Photo : PixelFormula
SAO PAULO, July 23 (Reuters) - French luxury goods group Hermes (HRMS.PA) will open its first Brazilian store in Sao Paulo after almost 30 years of trademark disputes and unsuccessful attempts to lure partners, newspaper Valor Economico reported on Thursday 23 July.
Paris-based Hermes will open its store in the upscale Cidade Jardim shopping mall in Sao Paulo by mid-September, Valor said, citing Guillaume de Seynes, deputy managing director at Hermes and a member of the company's founding family.
The decision underscores the resilience of Brazil's economy and a gain in its currency, which favors sales of imported luxury goods amid the global economic downturn.
Hermes' 169-square-meter store in Sao Paulo will offer the company's 14 different lines of products including Kelly and Birkin bags, shoes, jewelry and accessories, de Seynes told Valor.
Hermes' stores worldwide rose to 286 last year from 234 in 2004, Valor said. The company is now scrutinizing investments more rigorously, de Seynes said, and scaled back plans to open two stores in China from a prior plan of four.
The company suspended the upgrading and expansion of two leather manufacturing plants until next year, de Seynes said, adding that the investment in the plants will depend on a stabilization of the global luxury markets.
Hermes' Sao Paulo store will be located right in front of rival Louis Vuitton, owned by French company LVMH (LVMH.PA), Valor said.
(Reporting by Guillermo Parra-Bernal; Editing by Derek Caney)
© Thomson Reuters 2023 All rights reserved.