Hublot cautious due to EU debt worries
By Silke Koltrowitz
PARIS, June 2 (Reuters) - Swiss watchmaker Hublot, part of luxury group LVMH (LVMH.PA), achieved record sales in the first five months of 2010 but is concerned that the European debt crisis will hit demand for expensive watches, its head said.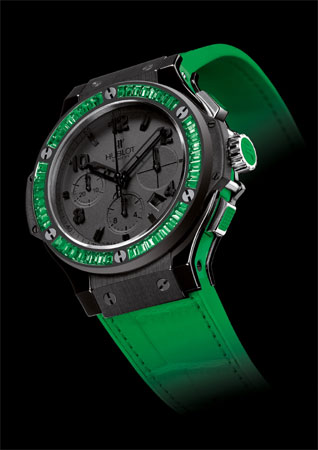 Hublot - Big Bang Apple in black (Source: www.hublot.com)
"We had five record months this year," Hublot Chief Executive Jean-Claude Biver told the Reuters Global Luxury Summit in Paris. "For the rest of the year, I don't know what will happen... I have concern about Europe and because of this concern I am now getting cautious," he added, referring to the European budget crisis.
Biver told Reuters at the Baselworld watch fair in March he expected record sales this year. But on Wednesday 2 June, he said this goal could not be reached "if Europe failed to recover."
The watch industry is emerging from its worst crisis in decades as consumers start spending again after months of austerity. Swiss watch exports rose 11.5 percent in April after a 22.3 percent slump in 2009.
Given the recent recovery, Biver does not see much potential for consolidation in the Swiss watch industry at the moment.
"The good and strong brands are not suffering enough so I don't see a lot of possibilities. I don't see many interesting brands that anyone could buy at the moment. The good names are all under the roof."
The two big hard luxury groups Swatch Group (UHR.VX) and Richemont (CFR.VX) both have full war chests and Richemont just completed the acquisition of online luxury fashion retailer Net-à-Porter.
So far watch companies are not offering their pricey products online and Hublot, which is known for its Big Bang watches combining rubber and precious metals, said it was concerned about protecting the exclusivity of its watches.
"We have an exclusive network of 400 retailers but that cannot work online. When you are online, you are not exclusive anymore, you are global," Biver said.
Hublot, whose watches cost on average a bit more than 9,000 Swiss francs (6,370 euros), sits alongside watch brands Tag Heuer and Zenith at LVMH's watch and jewellery business that reported like-for-like sales growth of 34 percent to 204 million euros during the first-quarter of 2010.
The brand and its star product, the Hublot watch featuring a porthole-shaped gold case and a black natural rubber strap, were created in 1980 by Carlo Crocco.
The real breakthrough came after Jean-Claude Biver, who had kissed awake the dormant Blancpain brand before selling it to the Swatch Group (UHR.VX), took over as CEO at Hublot in 2004.
Sales figures grew quickly thanks to Biver's efforts in the area of marketing and, in 2008, Carlo Crocco sold the brand to LVMH.
Biver is enthusiastic about seeing his brand associated with superstars and counts Argentinean football player Diego Maradona and American ski racer Bode Miller amongst his ambassadors.
"People want to follow leaders, now more than ever, but we don't want to take an ambassador who has no relation with our watches. We first want to see who is wearing them and then we go a step further," Biver said.
Hublot has partnerships in sailing, golf, tennis, skiing and football, and is the official timekeeper of the UK's Manchester United football club and the next two football World Cups.
© Thomson Reuters 2023 All rights reserved.