Hublot eyes flat 2009 sales, Ebel more cautious
By Katie Reid and Silke Koltrowitz
BASEL, March 25 (Reuters) - Swiss watchmaker Hublot expects sales to be near flat in 2009, while rival Ebel struck a more cautious note, saying its overall sales this year were likely to be lower than in 2008 as American demand for watches withered.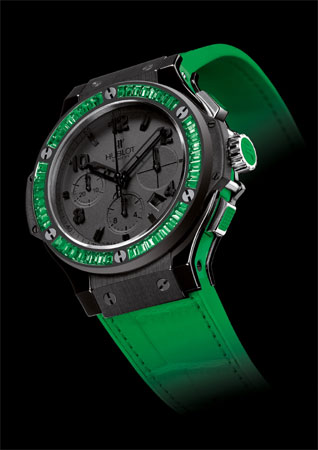 Hublot - Big Bang Apple in black (Source: www.hublot.com)
Hublot, which sits alongside watch brands Tag Heuer and Zenith at French luxury group LVMH (LVMH.PA), posted 2008 sales of about 250 million Swiss francs ($221.6 million) and is aiming to hit this level in 2009 as demand for its watches holds up.
"We might be a couple of percent above, or a couple of percent below last year's sales figure," Chief Executive Jean-Claude Biver told Reuters at this year's Baselworld watch and jewellery fair.
"Customers are buying less, but they are still buying. The world has not stopped," Biver said, adding that the French and South American markets were doing better than those in America, Russia and Japan.
The Swiss watch industry is grappling with a drop in demand for luxury timepieces as traditional customers such as bankers lose their bonuses and tens of thousands of jobs are axed in the financial sector as a result of the economic downturn.
"It is encouraging that Hublot is eyeing flat sales. What is helping it is the fact that it has a powerhouse like LVMH behind it, which means its distribution is underpinned and it can gain access to key markets," an analyst based in Zurich said.
But Ebel Co-President Loek Oprinsen told Reuters its sales were likely to be below last year's figures as it is hurt by weakness in the key U.S. market.
Ebel is owned by U.S. watchmaker Movado (MOV.N), which is also behind the distribution of other watchbrands like Concord, Tommy Hilfiger and Hugo Boss.
"Ebel is mostly regarded as a female brand and is in a very competitive market as it competes with brands like Omega (UHR.VX) and Cartier (CFR.VX). It is not surprising it is facing tough times," the analyst said.
Oprinsen said Ebel would benefit from its strong position in the female watch category, however, as women were still spending.
Demand for Ebel's watches in the Middle East had been slightly higher in the first quarter, while demand had been flat in Germany and the UK in the period, Oprinsen said.
Watches costing between 2,000 Swiss francs and 5,000 francs were faring better than more expensive timepieces as many customers were starting to opt for less expensive watches, Oprinsen said.
Both Ebel and Hublot said they would spend the same amount on marketing this year as they did in 2008.
"Research and development and marketing is very important. We will spend the same, but we will get more for our money. Thanks to LVMH we get better rates and prices for advertising are lower now," Biver said.
Biver said there were no plans to cut jobs at Hublot, and the group was actually looking to add up to 50 new employees and would open a new factory later this year. (Reporting by Katie Reid and Silke Koltrowitz)
© Thomson Reuters 2023 All rights reserved.