Hugo Boss eyes expansion in tough China market, reports 10 percent rise in first-quarter sales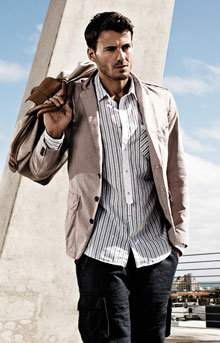 Hugo Boss' Boss Black spring-summer 2012 collection / Photo: Hugo Boss
FRANKFURT - German fashion house Hugo Boss said it would focus on opening its own stores and expanding into smaller cities in China as growth in the main driver of the luxury industry slows in 2012.
"Although the market environment in China has deteriorated somewhat due to the more cautious consumer sentiment recently, we are nonetheless confident that we will be able to hold our own in the tough competition," Chief Executive Claus-Dietrich Lahrs said as the group reported a 10 percent rise in first-quarter sales.
It said it planned to open 50 of its own stores this year, with the focus on China, but added it would also look at expanding its presence in Europe.
Sales at luxury companies from LVMH to Richemont and Burberry soared last year, as Chinese demand for high-end European brands surged.
Even though growth in Asia is expected to slow this year, many companies, like LVMH, have said Europe remains more of a worry.
Hugo Boss, known for its sharp suits, said the Europe market had been mixed in the first quarter, with sales growing in Germany, the UK and Benelux countries, while France remained steady.
It maintained its forecast for currency-adjusted sales to rise by up to 10 percent in 2012, while core profit should rise at a faster rate.
The group reported first quarter sales of 607 million euros ($800 million) with operating profit before special items up 13 percent at 148 million euros.
Analysts had been expecting the group to report first-quarter sales of 592 million euros, according to a Reuters poll.
© Thomson Reuters 2023 All rights reserved.