IHT Hot Luxury: "Latin America, the new El Dorado of luxury?"
"Olá Brasil!" said the publisher of the International Herald Tribune (IHT), Stephen Dunbar-Johnson, as he gave a warm welcome to the crowd that gathered in Sao Paulo last week for IHT's 2011 luxury conference. He then proceeded to open the debate with a question: "Is Latin America the new El Dorado of luxury?" and passed the microphone to Suzy Menkes, fashion editor and host of the conference.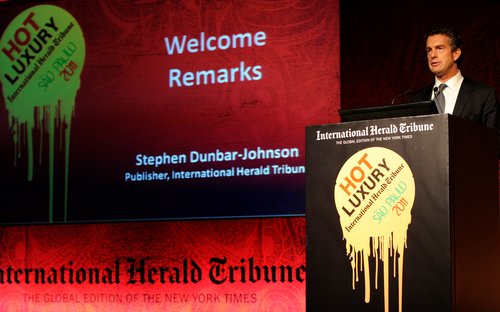 Opening speech by Stephen Dunbar - photo by Getty Images
The legendary fashion critic then spoke on the theme "How hot is Brazil?", before showering the country with praises and speaking of her love for Sao Paulo. She admitted that she could not say the same about Moscow, one of the conference's previous host cities which did not excite her in the same way.
"I left Europe with that heavy atmosphere of governments ending and economies falling apart, then I arrived here in Brazil and my spirits were instantly lifted by your smiles and your optimism. We are not here to host this conference with a mindset of trying to teach something to Brazilians. In fact, the way we feel is precisely the opposite: it is the Brazilians who have things to teach us. We have to give in to the fact that our time is over (for Europe and the United States). Now is the time for Brazil, for Latin America and for these new markets", she declared as the crowd applauded.
After 25 years of working for the International Herald Tribune, Suzy Menkes has experienced first-hand many changes in consumer behaviour. She continued: "Luxury is no longer the same. This is what we are here to celebrate!"
Today, it is estimated that 400 million luxury consumers live in Latin America, including Mexico. "When we first began to visualise this conference two years ago – before knowing that Brazil would be hosting the Olympics and the World Cup – I was wondering why all businesses had their eyes firmly fixed on China and could not see a market that was right there, next to the United States."
"Many companies admit that they failed to take notice of the market in Latin America and are now having to pick up the pace", she said. "But I have to confess that I was still quite shocked to hear that this is the first time that some CEO's have been to Brazil."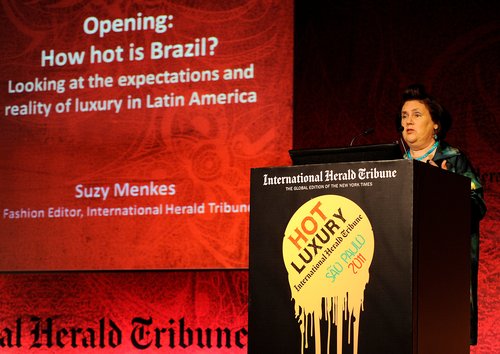 "Luxury is no longer the same. This is what we are here to celebrate!" - photo by Getty Images
The country is already among the world's biggest luxury consumers, falling only behind China (leader of the ranking, according to market research), Japan, the United States, France and Russia. Brazil also recently became the world's fifth largest economy, overtaking France and the United Kingdom.
Menkes nevertheless said that we still lack sufficient knowledge to understand some specific characteristics of the Brazilian market and Brazil itself. Luxury groups such as LVMH or PPR know that, when choosing where to open a flagship store in Brazil, the key cities are always Sao Paulo first and then Rio. But studies by consulting firms MCF and GFK show that economic growth in Brazil is opening up opportunities in other cities such as Belo Horizonte and Brasilia. The report also shows that Brazilians spent 15.7 billion reais in luxury products last year.
And this year, as the crisis in Europe deepens, that figure is expected to grow by 20%, according to a report by Bain & Company entitled "Luxury Goods Worldwide Market Study". This forecast alone already justifies the entrance of big names in the Brazilian market over the last year. Furthermore, Menkes believes that the number of brands arriving in Brazil will rise even more in 2012.
IHT's Hot Luxury conference gathered some of the biggest names in the fashion world, with speeches given by Mario Testino, Diane Von Fürstenberg, Marc Puig, Carolina Herrera, Christian Louboutin, Charlotte Dellal, Sarah Burton (Alexander McQueen), Lapo Elkann, James Lima, Toby Bateman e Jeremy Langmead (Mr.Porter), Cecilia Dean (Visionaire), José Neves (Farfetch), Lew Frankfort (Coach), Carmen Busquets (Couturelab), Fernando Rodés Vilà (Havas), Nader Mousavizadeh (Oxford Analytica) and Kenneth Wyse (Phillips-Van Heusen Corp).
Among the Brazilian personalities to speak at the event were Nizan Guanaes, Francisco Costa (Calvin Klein artistic director), Roberto Stern, Carlos Jereissati Filho, Lenny Niemeyer, Rony Rodrigues, Carla Schmitzberger (Havaianas), Oskar Metsavaht (Osklen), Gustavos Lins, Daniella Helayel (Issa by London), Carlos Miele, Alexandre Herchcovitch, Pedro Lourenço and Carlos Ferreirinha.
The 2012 edition of the luxury conference will be held in South Africa, which is considered to be the 5th country in the BRIC group.
By Márcia Lencioni
Copyright © 2023 FashionNetwork.com All rights reserved.