IHT to host the world's most important luxury conference in London
Nov 9 & 10 sees many hotshots in the world of luxury reflecting on the industry, and its heritage history that is still embodied in luxury goods today. 'Luxury Heritage' is the topic for the annual conference by the International Herald Tribune, hosted by its renown fashion editor, Suzy Menkes.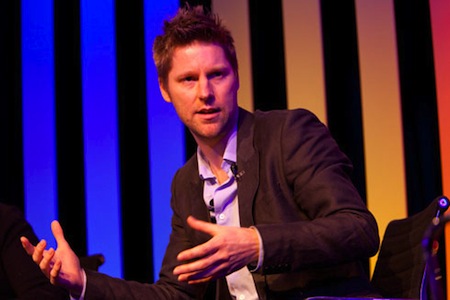 Christopher Bailey speaking at IHT's 'Techno Luxury' conference in Berlin in 2009
Held in London (Intercontinental London Park Lane), it will bring together great leaders from a variety of backgrounds. The organizers announced the attendance of around 600 delegates from 35 countries. The speakers are of the best quality: Alber Elbaz (Lanvin creative director), Christopher Bailey and Angela Ahrendts (artistic director and CEO of Burberry respectively), Patrizio di Marco (CEO of Gucci), Paul Smith, Tommy Hilfiger, Stanislas de Quercize (CEO of Van Cleef & Arpels), Karl Lagerfeld, Jennifer Woo (President of Lane Crawford), Mary-Aclair Macaire (CEO of Pringle of Scotland), David Lauren (Vice-president of Polo Ralph Lauren), Diego Della Valle (Chairman and CEO of Tod's Spa), Michele Scannavini (President of Coty Prestige), and so on and so forth... All of these speakers will address topics such as the reinterpretation of luxury's heritage and thus its legacy, how to be a classic yet modern brand. FashionMag.com, the conference's media partner, will be reporting the latest updates straight to you from the upcoming event.
Original by Jean-Paul Leroy. Translated by Rosie Hart
Copyright © 2023 FashionNetwork.com All rights reserved.