Interparfums unites with Clarins in US
From January 2011, Burberry, Lanvin, Jimmy Choo and Montblanc's fragrances and cosmetics will be marketed by Interparfums Luxury Brands. Support from Clarins takes over from P&G.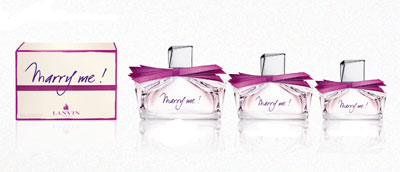 Marry Me line by Interparfum's Lanvin
The French subsidiary Interparfums SA has formed a new US subsidiary called Interparfums Luxury Brands ahead of an end to the contract with Proctor & Gamble Prestige on December 31. This was a mutual decision since the P&G giant is used to just selling its own brands and is now working with Gucci and Escada fragrances in the Amercian market.
So Interparfums Luxury Brands and Clarins (Theirry Mugler, Azzaro, David Yerman…) unite under a recently signed 4-year agreement. Clarins will provide logistical and administrative support while the expanded sales force will be jointly managed. This collaboration is particularly important for the French-based firm since the US market represents its number one market in the world (sold in 120 countries) and 17% of its sales revenue.
Interparfums, which reported in its first half, sales up 24% (+ 26% at constant exchange rates) to 150.7 million Euros, saw its operating income jump 43% to 21.5 million Euros and its profit increase by nearly two percentage points, driven by a strong increase in sales, the company expects strong growth in its annual results with sales exceeding 280 million Euros. Like all luxury businesses, licensed fragrance manufacturers refocusing on brands like Lanvin and Van Cleef & Arpels are now enjoying a return to growth following the crisis.
"Markets are doing well. Consumption is resuming now nearly everywhere", commented Philippe Benacin, CEO of the company, during a press presentation on results of the group. He added that sales were "excellent" in July and "correct" in August.
The group is continually looking for possible acquisitions, in the form of purchasing existing brands or launching new brands. Like P&G, Coty and L'Oréal, Interparfums remains on the lookout. "We receive propositions every week. But we have nothing solid yet", the CEO replied to a question on the subject. In addition, the company has launched a line of Burberry cosmetics manufactured by the Italian giant Intercos, more aimed at increasing awareness of British brand's perfumes than boosting sales. Within three years, these cosmetics in Interparfums' portfolio are expected to represent 6% to 7% of Burberry's turnover.
Copyright © 2023 FashionNetwork.com All rights reserved.