ITMA gathers 100,000 visitors in Barcelona
The international textile and garment machinery exhibition, which is held in a different city once every four years, chose Barcelona this time and was held there from the 22nd to the 29th of September. Some 100,000 professionals representing 138 nationalities were present at the 200,000 m² space that housed the trade show.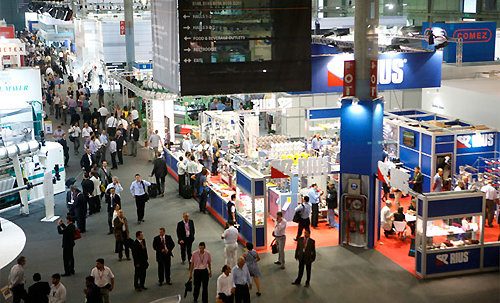 The ITMA 2011 Exhibition
A good 90 % of these professional came from abroad. Italy was the country best-represented with 9% of its own attendees, just ahead of Spain and India, while Germany and Turkey occupied the fourth and fifth places, respectively. Brazil and Iran were also found in the top ten countries represented. Some 27 national delegations were received at the show, including the the Bangladeshi Minister of Textiles and the Vietnamese Vice Minister of Trade and Industry.
"The majority of visitors come from textile hubs in Asia, Central America and South America," noted Sylvia Phua, CEO of the event's organizer MP International, Singapore. "Thanks to our extensive promotional effort, we were able to attract textile and apparel manufacturers from these burgeoning areas. As global companies, they need to invest in innovative and efficient solutions in order to be able to compete."
The exhibition marks the 60th anniversary of the ITMA brand, which brought together for the occasion 1,350 exhibitors from 27 countries. The next such exhibition is scheduled for the 12th to the 19th of November, 2015. And this time MP International has its sights set on Milan's trade fair and conference center, Fiera Milano.
Copyright © 2023 FashionNetwork.com All rights reserved.