J.C. Penney CEO stands by pricing strategy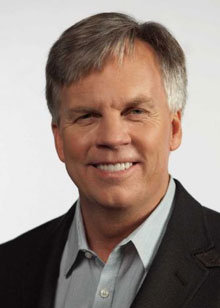 Ron Johnson / Photo: J.C. Penney
J.C. Penney Co Inc Chief Executive Ron Johnson stood by the company's new pricing strategy on Wednesday, even though that plan has initially hurt sales.
Johnson, who came to J.C. Penney after running Apple Inc's retail stores, said he is treating the department store chain like a start-up company.
"The only question is what size will the start-up be," he said, declining to specify how much the company could downsize. "We are going to get to the right level. The right level is where you have honored the integrity. "
In terms of sales, the company has gotten smaller. The company's same-store sales fell 18.9 percent in the first quarter, far worse than Wall Street analysts had expected, as J.C. Penney tried a strategy of moving away from hundreds of sales events to everyday low prices.
Johnson, speaking at Fortune magazine's Brainstorm Tech conference in Aspen, Colorado, said that he was sticking with the new pricing strategy and that the company's board of directors was "totally supportive."
Johnson also repeated his assertion that J.C. Penney initially confused customers with how it explained the new pricing strategy.
"Our execution wasn't what we needed," he said. "Our pricing is kind of confusing. Our marketing kind of overreached."
In June, Michael Francis, who was hired away from Target Corp to be president of J.C. Penney, responsible for marketing and merchandising, left the company.
Johnson compared the restructuring efforts at J.C. Penney to his early days at Apple when was struggling.
"Apple went through much tougher years than we are going through this year at Penney's, he said, adding that such effort takes time. "A transformation is a marathon, not a sprint."
Aside from changing its pricing strategy, J.C. Penney is also overhauling its merchandise, carving its stores into hundreds of boutiques, each hosting a brand like Tourneau watches or Martha Stewart home products.
Some of those changes start next week, Johnson said, including the opening of "denim bars" with Levi's jeans.
Johnson also said he was a strong believer in physical stores and predicted that online retailing would level off just as catalog shopping did a few decades ago.
"Online retail is going to level off by category, by business," he said.
© Thomson Reuters 2021 All rights reserved.