Jaeger owner adds Aquascutum to fashion empire
LONDON (Reuters) - Two of Britain's oldest and best-known luxury fashion brands were brought under one roof on Tuesday 8 September, when the team behind Jaeger joined forces to buy loss-making Aquascutum from its Japanese owner.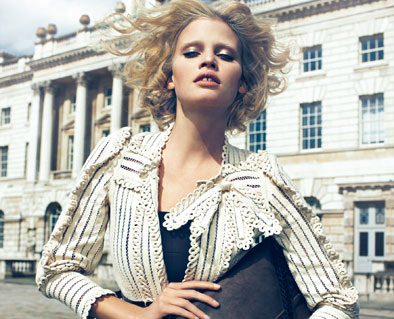 Jaeger womenswear - Photo: www.jaeger.co.uk
Harold Tillman, chairman and majority owner of 125-year-old Jaeger, and Jaeger chief executive Belinda Earl said they were buying most of 158-year-old Aquascutum for an undisclosed sum.
The deal will create a fashion group with combined sales of over 300 million pounds ($492 million) and will raise hopes for a number of struggling fashion brands looking to find buyers after being hit hard by the global economic downturn.
The administrator of French fashion house Christian Lacroix said on Monday 7 September he hoped that owners Falic Group could reach a rescue deal with Italian businessman Maurizio Borletti by the end of this month, while insolvent German fashion house Escada is casting around for a buyer.
As part of the Aquascutum deal, Hong Kong and Chinese licensee YGM Trading (0375.HK), which had been tipped as a bidder for the whole business, bought the rights for the brand's business in Asia.
STARDUST
Tillman, chairman of the British fashion council and the youngest person to float a company on the London Stock Exchange, acquired Jaeger in 2003 and has turned it into a profitable business by extending the brand in accessories and homewares.
He plans a similar strategy for Aquascutum, and to expand the brand in Russia and the United States in particular.
"We will get into the business, meet the management and hopefully spray our stardust on it," he told Reuters in a telephone interview.
Aquascutum, best known for its patented check pattern and trench coats, was put under review by Japanese owner Renown (3606.T) in the spring after years of challenging trading.
Renown, which bought Aquascutum for about 20 billion yen ($215 million) in 1990, then turned down a management buyout bid from Chief Executive Kim Winser, who had been implementing a turnaround strategy.
Tillman declined to say how much he expected to invest in Aquascutum, or whether the brand would return to profit next year, as Winser had targeted.
Jaeger and Aquascutum would be run as separate businesses, but there would be an as-yet undetermined level of savings in product sourcing and sales from running the two brands, he said.
Recent sales at Aquascutum had been "fairly static" year on year, while like-for-like sales at Jaeger were growing, he added, while declining to give further details.
Tillman wouldn't rule out adding more brands to his empire, but said he would be focused on Aquascutum for the time being.
"I can never say never ... but I think I'd like to digest this first. We haven't owned it a day yet," he said.
($1=93.17 Yen)
($1=.6101 Pound)
(Editing by James Davey and Jon Loades-Carter)
© Thomson Reuters 2022 All rights reserved.