JC Penney most optimistic about 4th quarter
By Aarthi Sivaraman
NEW YORK (Reuters) - J.C. Penney Co Inc (JCP.N) is more optimistic about its fourth quarter than the rest of its fiscal year, hoping new styles and affordable prices will help it win more sales than it did in the dismal 2008 holiday season.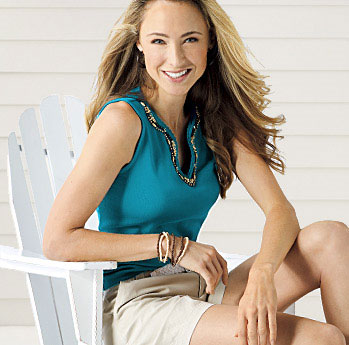 J.C. Penney
Speaking at the Reuters Global Retail Summit in New York on Wednesday 10 June, Penney Chief Executive Myron "Mike" Ullman said the company's best chances of doing well would be in the final quarter, which includes the December sales season.
That was the toughest period for most retailers last year, when the holiday season was one of the worst in nearly 40 years.
But this year, the fourth quarter could be Penney's biggest opportunity, Ullman said. "That's the biggest-volume quarter and that's the quarter (when) we had the most difficulty last year," he said.
For the 2009 holidays, Ullman predicted demand for colorful, new fashions that are affordable for cash-strapped consumers, with men's sweaters, for instance, being a top gift choice.
The focus on new is in contrast to luxury retailers like Saks Inc (SKS.N) and Burberry (BRBY.L). Executives from those chains said at the Reuters Global Luxury Summit earlier this week that their shoppers were still looking for classic brands, with Saks noting an emphasis on price.
Saks, for instance, will sell a $750 Prada handbag during the holidays, while a prior style sold for $1,000.
Penney's St. John's Bay handbags, on the other hand, are $20 to $60.
Among the brands it sells, Penney expects its own labels, which include Ambrielle, St. John's Bay, Okie Dokie and Worthington, will be the strongest during the holidays.
Penney has emphasized those brands and exclusive ones such as Allen B., Fabulosity by Kimora Lee Simmons, and nicole by Nicole Miller as it tries to capture market share in the economic slump.
That move seems to have paid off. Women's apparel, which has been one of the most challenged segments for most retailers, is Penney's best-performing category, Ullman said.
Penney reported a 8.2 percent drop in May sales at stores open at least one year. But the decline was less than what analysts had expected, and at that time, Penney had pointed to women's clothing as its top merchandise category.
For the year, Penney expects about a 9 percent drop in same-store sales, and earnings of 50 cents to 65 cents per share, as it had forecast in mid-May.
The company had forecast a same-store sales decline of 9 percent to 12 percent and a per-share loss of 15 cents to 25 cents for the current, second quarter at that time.
The retailer has been cutting its inventory and offering fewer discounts as it tries to offset weak sales that have dogged it and other department stores such as Macy's Inc (M.N) and even upscale Saks for months.
Penney stores that are not in malls are faring better, Ullman noted.
"Obviously," Ullman said, "off-mall discount venues are tending to do better in this climate because people are shopping more for need and closer to home."
Penney shares were down 1.6 percent at $28.50 in afternoon New York Stock Exchange trading.
(For summit blog: blogs.reuters.com/summits/)
(Reporting by Aarthi Sivaraman; Editing by Lisa Von Ahn)
© Thomson Reuters 2023 All rights reserved.