JD Sports sees results in line with range of views
LONDON - British retailer JD Sports Fashion said its acquisition of loss-making Blacks Leisure's assets would lead to a small reduction in earnings but it expected its full year results to be within the current range of forecasts.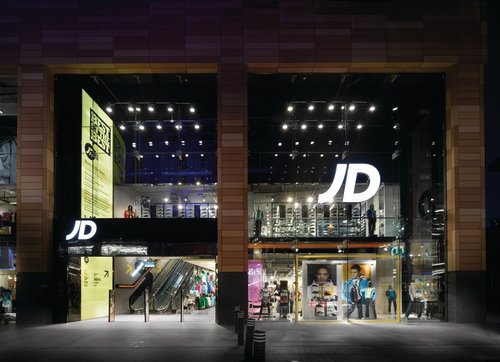 JD Sports Liverpool store
The clothing and footwear firm said sales at shops in Britain and Ireland open more than a year increased by 1.6 percent in the five weeks to Jan. 7. Excluding the impact of a rise in VAT sales tax, like-for-like sales were up 0.1 percent.
JD Sports, which sells brands such as Adidas and Nike to a young clientele, said it had maintained gross profit margins broadly in line with last year.
JD Sports on Monday purchased the trade, assets and brands of Blacks Leisure from the outdoor store group's administrator, KPMG, for 20 million pounds.
Under the terms of the deal, Blacks was declared insolvent and went into administration before immediately re-emerging under JD Sports' ownership. [ID:
Shares in JD Sports, 57 percent owned by the Pentland sportswear group, closed on Tuesday at 691 pence, valuing the business at 336 million pounds.
(Reporting by Matt Scuffham; Editing by Paul Hoskins)
© Thomson Reuters 2023 All rights reserved.