JJB Sports raises 31.5 mln stg to keep going
Feb 21 - Struggling British sportswear retailer JJB Sports has raised 31.5 million pounds ($51.2 million) in a share sale that represents an essential first step towards survival. The firm, in which America's richest man Bill Gates holds a stake of about 5.5 percent, said on Monday the cash was raised in a firm placing and a placing and open offer of 630 million shares at 5 pence each.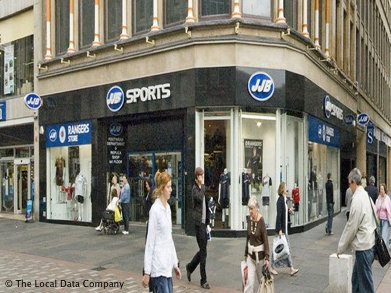 JJB Sports shop in Glasgow (image by The Local Data Company)
Of the 315 million shares in the open offer, acceptances of just 3.7 percent were received, with the balance of 96.3 percent allocated to shareholders which backed JJB's firm placing, including its two largest investors Harris Associates and Crystal Amber.
The capital raising was backed by JJB's shareholders on Friday.
JJB has said it requires a larger capital raising, in addition to the 31.5 million pounds, along with creditor and investor support for a second company voluntary arrangement in as many years if it is to avoid going into administration.
The second CVA proposes the closure of up to 95 JJB stores and the retention of a core group of 150 stores.
The firm, which employs about 6,300 staff, is also in takeover talks with thriving rival JD Sports Fashion.
Shares in JJB, which have lost two thirds of their value over the last year, closed on Friday at 3.81 pence, valuing the business at about 37 million pounds.

(Reporting by James Davey, editing by Mark Potter)
© Thomson Reuters 2023 All rights reserved.